Eluveitie
Folk metal - Switzerland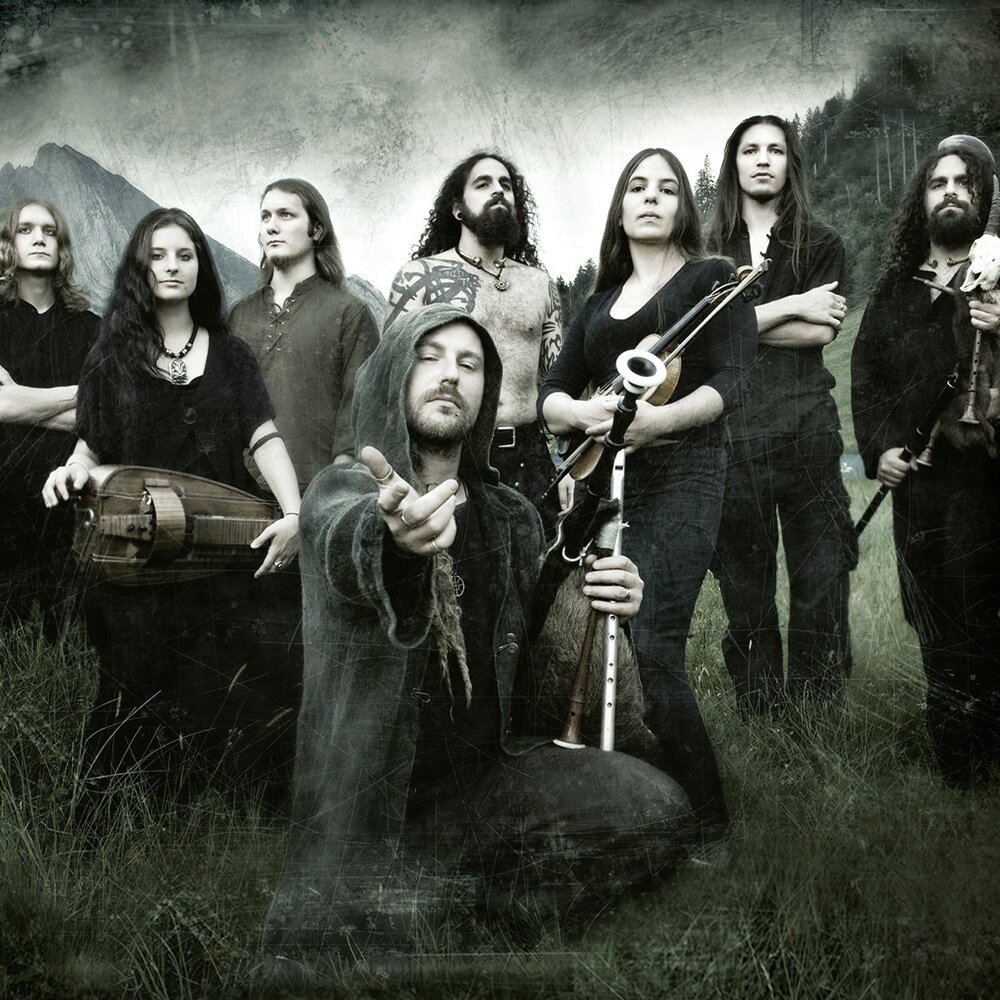 While Eluveitie always belonged to the fast growing European folk metal scene, they always brought some fresh wind into it: Eluveitie's sound is authentic, traditional Celtic folk music combined in a unique way with modern styled melodic death metal. With their various albums they managed to deepen every aspect of that unique style, which can only be described as "The New Wave Of Folk Metal".
Originally formed by mastermind Chrigel Glanzmann in Winter 2002/2003 as a mere studio project, the first MCD "Vên" was recorded in spring 2003 – already unique in its way of having folk music on an equal footing with the metal sound.
The self-financed MCD was ardently received by scene and press and sold out within a few months. In 2004 Eluveitie signed to Dutch label Fear Dark Records, who released a re-mastered (and partly re-recorded) version of "Vên" in Europe, and continued as a "real" band, playing gigs together with bands such as Finntroll, Amon Amarth, Korpiklaani, Ensiferum and many others while touring Europe and playing many festivals.
Although some line-up changes still had to happen, Eluveitie grew into being a band and developed their very own style. In late 2005 Eluveitie were finally ready to enter the studio again and record their first full-length album "Spirit", which was again released through Fear Dark Records in Europe. Furthermore a videoclip for the Song "Of Fire, Wind & Wisdom" was produced in Summer 2006, directed by Martin Schäppi, Merlin Sutter & Chrigel Glanzmann / Eluveitie.
With "Spirit" Eluveitie went a big step forward, presenting a completely new style of Folk Metal to the scene – starting a new wave of Folk Metal! Finally, folk metal freaks from USA and Canada were able to get hold of "Vên" and "Spirit" in 2008, when Season of Mist released them in North America.
Line-up:
Christian 'Chrigel' Glanzmann : Vocals, Acoustic guitar, Mandolin, Uilleann Pipes, Bodhràn, Tin and low whistles, Gaita
Merlin Sutter : Drums
Rafi Kirder : Bass
Sevan Kirder : Irish flute, Tin whistles, Bagpipes
Sarah Kiener : Hurdy Gurdy, Bass-shalm, Crummhorn, Zugerörgeli, Vocals
Meri Tadic : Fiddle, Vocals
Linda Suter : Fiddle, Vocals
Simeon Koch : Guitar, Vocals
Ivo Henzi : Guitar
This band is no longer active on Season of Mist.
Available territory: North America.