Solefald
Experimental Viking Metal - Norway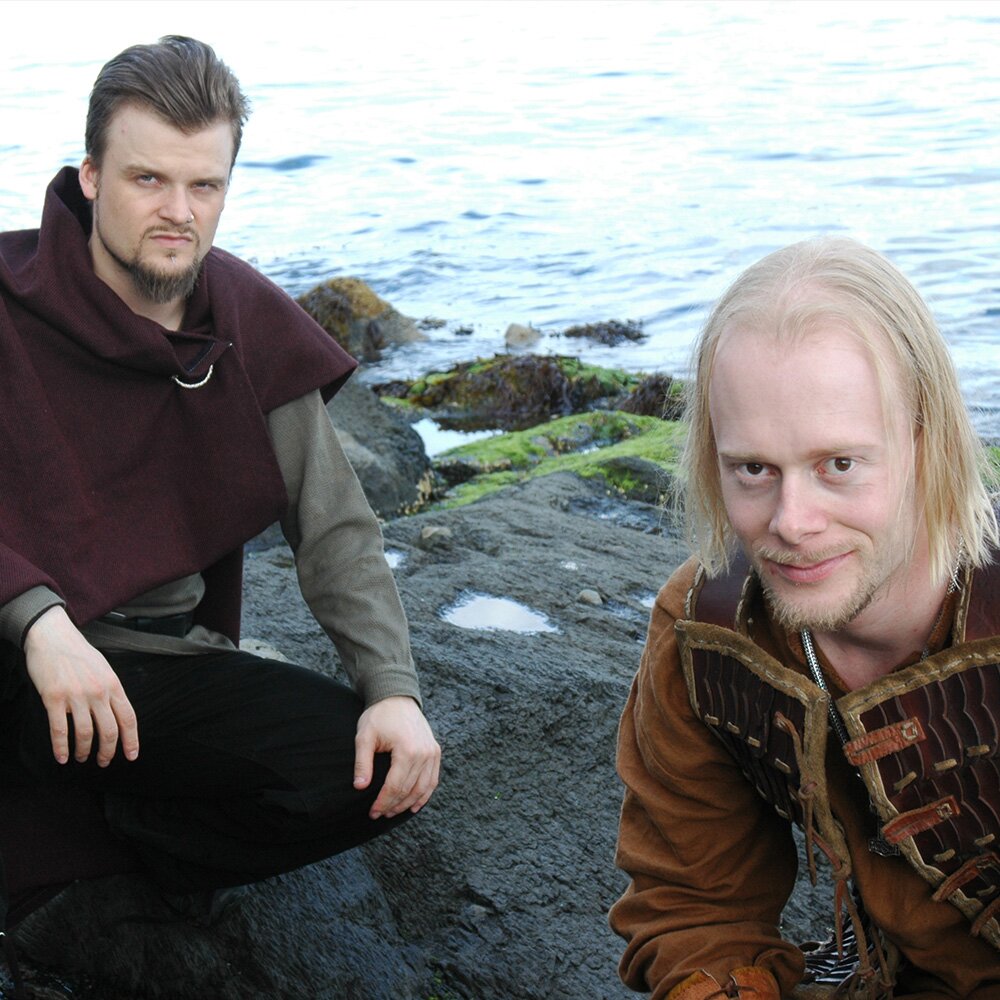 The SOLEFALD history dates back to the autumn of 1995 when melodic Black Metal was still a rather new and popular genre. The band was founded by Lazare and Cornelius, both with long musical experience from Techno-Thrash bands. Vocalist Cornelius has credits with MONUMENTUM and a solo project entitled PERSONA. Drummer Lazare (Lars Are Nedland) has credits with BORKNAGER and CARPATHIAN FOREST. The demo "Jernlov" and its twisted view on black metal made the band stand out from their Norwegian contemporaries. Avantgarde Music soon inked the band for a two album deal and their debut album "The Linear Scaffold" was released in July 1997. It could be described as a black metal album with radical lyrics and is their heaviest album to date. Live work employed the use of guitarist John E, drummer Tarald and DIMMU BORGIR man, Jens Peter, on bass. Their inaugural tour in 1998 saw them partnered with HAGGARD and TRISTANIA on a complete European tour.
1999's "Neonism" began to steer towards brainy compositions and philosophical lyrics. It was a record that literally had the mixing desk catch on fire in the studio! This direction evolved into the increasing complexity and technical exhibitionism of "Pills Against the Ageless Ills" which was released in 2001 on their new label, Century Media. "In Harmonia Universali" released in 2003, immediately brings to mind the progressive airs of Yes' vintage '70s art rock, but SOLEFALD soon lead their listeners astray into customarily unfamiliar territory. Sung in four languages (Norwegian, German, French, and English) and graced with a male choir, a saxophone, Spanish guitar, and the keyboard exotica of a Steinway grand piano & a Hammond B-3 organ. Alternative Press stated, "the kind of complete sensory experience only the best metal can provide", as the band proves they are never predictable and evoke works by King Crimson's and top shelf progressive-rock.
In 2003 Lazare also spent time in AGE OF SILENCE alongside KHOLD and TULUS man Eikund and the notorious MAYHEM, WINDS and ARCTURUS drummer Hellhammer.
In the year 2005, the band traveled to Iceland to write their next album. Originally planning to release one new album, the group wound up writing so much new material, they decided they would release two new albums. The band then stated: "SOLEFALD was experimenting when everybody was being true. Now that things are changing and that we've pushed the experiment quite far already, we wanted "Red For Fire + Black For Death" to be our attempts at being true. This will be a true Nordic Viking Metal album." This two part saga is the story written by Cornelius about Bragi, a skald in Iceland. "Red For Fire: An Icelandic Odyssey Part I", the first album from this two part saga, was released in October 2005. Musically the album was far from standard viking metal. The inclusion of a violin and cello handling most of Lazare's musical arrangements rather than a synthesizer, Jörmundur Ingi's deep voice, beautiful female vocals thanks to Aggie "Frost" Peterson, beautiful jazzy saxophone playing, tight and ever varied drumming, angular, cold, bright, raw, and heavy guitar playing, made the album epic, sweeping, layered, majestic, and intense.
Now, the same very talented artists are back on "Black for Death: An Icelandic Odyssey part 2", the second and last part of the concept, which totally fits the musical direction as "Red for Fire". As previously announced, this new album also features a guest appearance by Garm of ULVER. "Black for Death" was written in Reykjavik at Summer Solstice in the year 1003 after the Fall of Iceland. SOLEFALD proudly dedicate this album to the pagan heritage of the Northlands.
Line-up:
Cornelius : Wolf Voices, Viking axes, Sound effects
Lazare : Cold Choirs, Keys & orchestration, Blizzard beats
- Guest musicians : -
Christophorus Trickster Garm : Vocals
Aggie Frost Peterson : Vocals
Sareeta : Violin
Live Julianne Kostøl : Cello
Kjetil Selvik : Saxophone
Jörmundur Ingi : Voice
This band is no longer active on Season of Mist.