1349 have announced the second leg of their North American "Chaos Raids" tour in support of their latest album 'Massive Cauldron of Chaos'. The Norwegian black metal tyrants will kick off in Baltimore, MD on May 30th and will be joined by label mates NECROPHAGIA, and VATTNET VISKAR. See below for a complete list of shows.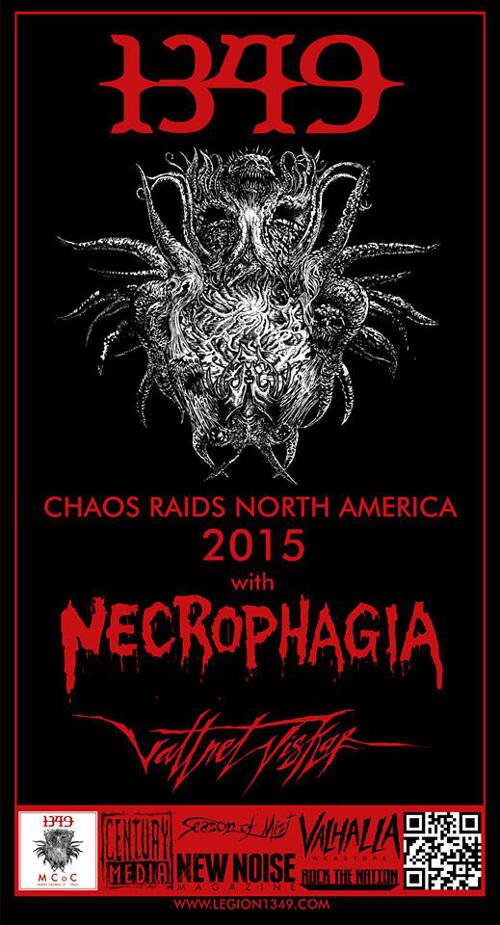 30 May 15 Baltimore, MD (US) Ottobar
31 May 15 Brooklyn, NY (US) St. Vitus
01 Jun 15 Montreal, QC (CA) Foufounes Electriques
02 Jun 15 Toronto, ON (CA) Mod Club
03 Jun 15 Rochester, NY (US) Montage Music Hall
04 Jun 15 Chicago, IL (US) Cobra Lounge
05 Jun 15 St. Paul, MN (US) Amsterdam Bar
06 Jun 15 Des Moines, IA (US) Val Air Ballroom
09 Jun 15 Boise, ID (US) The Crazy Horse
10 Jun 15 Seattle, WA (US) Club SUR
11 Jun 15 Portland, OR (US) Tonic Lounge
12 Jun 15 Oakland, CA (US) Metro Opera House
13 Jun 15 San Diego, CA (US) Brick by Brick
14 Jun 15 Phoenix, AZ (US) Joe's Grotto
15 Jun 15 El Paso, TX (US) Mesa Music Hall
16 Jun 15 San Antonio, TX (US) Korova
17 Jun 15 Ft Worth TX (US) Tom Cat's
18 Jun 15 New Orleans, LA (US) Siberia
19 Jun 15 Orlando, FL (US) The Haven (without NECROPHAGIA)
1349 will hit the road supporting their new full-length 'Massive Cauldron of Chaos', which has been called "another career-defining release which will surely confirm their place among black metal's more promising groups" by Sputnik Music, and a "musical, versatile effort that should earn 1349 a high degree of respect going forward" by Metal Injection. The album is available in various formats through the Season of Mist shop and streaming here in full. Artwork and tracklist can be viewed below.
Cauldron
Slaves
Exorcism
Postmortem
Mengele's
Golem
Chained
Godslayer
NECROPHAGIA are touring in support of their latest full-length 'WhiteWorm Cathedral'. All still available formats can be directly ordered from the Season of Mist shop and the album is streaming here. Artwork and tracklist are shown below.
Reborn Through Black Mass
Вий
Angel Blake
Warlock Messiah
Fear The Priest
Elder Things
Coffins
Hexen Nacht
Rat Witch
March Of The Deathcorps(e)
Silentium Vel Mortis
The Dead Among Us
WhiteWorm Cathedral
View 1349