1349 – The Infernal Pathway – September 3, 2019
Posted on September 3, 2019
More information about The Infernal Pathway
Norwegian black metal masters 1349 have announced a second batch of North American tour dates for this fall, in which they will be supported by UADA. The trek will kick off on October 25 in Jacksonville, FL and will conclude on November 16 in Atlanta, GA. The updated itinerary can be viewed below.
In addition to the tour announcement, 1349 will be releasing 'The Infernal Pathway' on October 18! The record was recorded in Amper Tone studios and Studio Nyhagen with engineer Jarrett Pritchard earlier this year.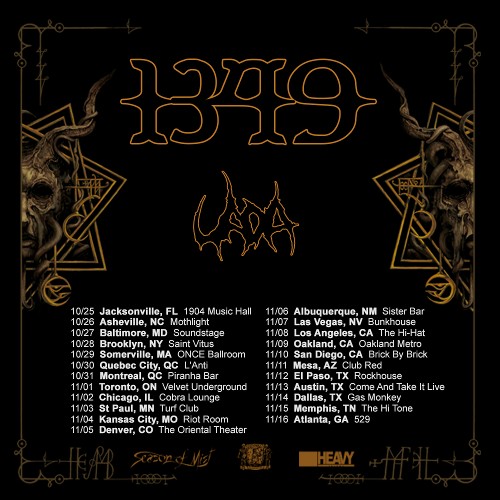 1349 US Tour + UADA
25 Oct 19 Jacksonville, FL (US) 1904 Music Hall
26 Oct 19 Asheville, NC (US) Mothlight
27 Oct 19 Baltimore, MD (US) Soundstage
28 Oct 19 Brooklyn, NY (US) Saint Vitus
29 Oct 19 Somerville, MA (US) Once Ballroom
30 Oct 19 Quebec City, QC (CA) L'Anti
31 Oct 19 Montreal, QC (CA) Piranha Bar
01 Nov 19 Toronto, ON (CA) Velvet Underground
02 Nov 19 Chicago, IL (US) Cobra Lounge
03 Nov 19 St Paul, MN (US) Turf Club
04 Nov 19 Kansas City, MO (US) Riot Room
05 Nov 19 Denver, CO (US) The Oriental Theater
06 Nov 19 Albuquerque, NM (US) Sister Bar
07 Nov 19 Las Vegas, NV (US) Bunkhouse
08 Nov 19 Los Angeles, CA (US) The Hi Hat
09 Nov 19 Oakland, CA (US) Oakland Metro Operahouse
10 Nov 19 San Diego, CA (US) Brick By Brick
11 Nov 19 Mesa, AZ (US) Club Red
12 Nov 19 El Paso, TX (US) Rockhouse
13 Nov 19 Austin, TX (US) Come and Take It Live
14 Nov 19 Dallas, TX (US) Gas Monkey
15 Nov 19 Memphis, TN (US) The Hi Tone
16 Nov 19 Atlanta, GA (US) 259
'The Infernal Pathway' is available for pre-ordering in the Season of Mist shop.
Join 1349 on their official Facebook page.
View 1349