News update : ABBATH – May 29, 2015
Posted on May 29, 2015
ABBATH has announced the support acts for his first solo London show at The Forum in Kentish Town on Friday, September 18th. In an exclusive news item, Metal Hammer (UK) revealed that Ireland's finest, PRIMORDIAL and bellicose doomsters CONAN from Liverpool, UK will open for the Norwegian legend and his new band.
Metal Hammer quoted CONAN stating that: "For Aeons ABBATH has sung to us tales of victory and bloodshed, triumph and destruction. We will join him and bring forth the hammers of the old guard, casting darkness upon the southern plains."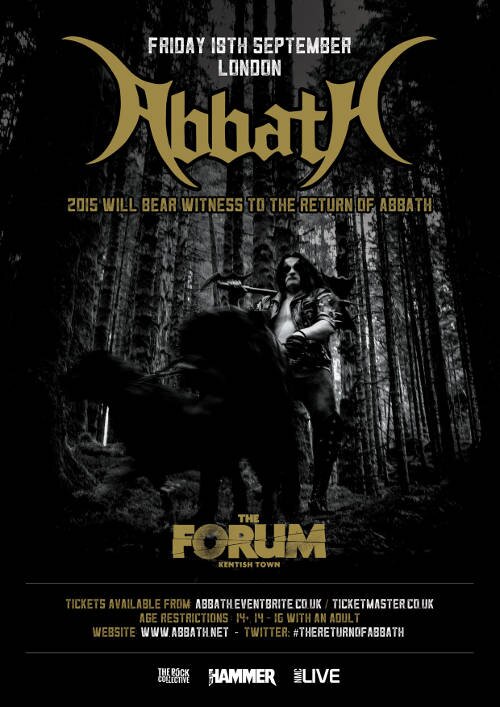 Tickets for this smashing event can be ordered here. For more confirmed shows see below.
27 Jun 15 Helsinki (FI) Tuska Metal Festival
08 Aug 15 Montréal (CA) Parc Jean-Drapeau (Heavy Montréal Festival)
04 Sep 15 Zürich (CH) Meh Suff Metal Festival
05 Sep 15 Torcy (FR) Fall of Summer
18 Sep 15 London (UK) The Forum
20 Feb 16 Bergen (NO) Blastfest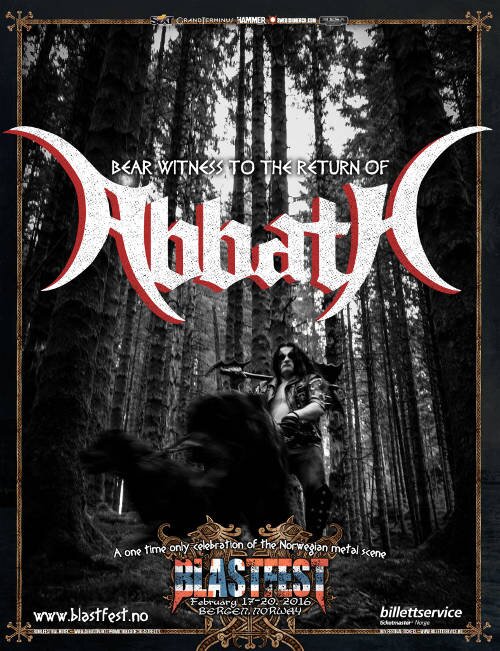 On previous news, Season of Mist have proudly announced the signing of ABBATH. Having recently departed from IMMORTAL to form a new band under his own name, the iconic Norwegian black metal legend is currently working on his debut album for Season of Mist, which is expected to be ready in early 2016.
Regarding this signing Michael Berberian personally commented: "My first black metal concert ever was IMMORTAL, ROTTING CHRIST, and BLASPHEMY in Paris, 1993", states the Season of Mist CEO. "Black metal was then, and still is, defining my musical taste. This concert was life changing and one of the events that eventually sparked the birth of Season of Mist. Fast-¬forward 22 years from that concert at this moment in time. ROTTING CHRIST have been with us for years, and now ABBATH joins us too! I'm presenting this signing with a pure adrenaline high and childlike amazement. On top of this, Abbath is one of a kind, a genuine character. This band has just the right chemistry, the ambition and the vision to excel."

Speakers of German can read a world exclusive interview with Abbath about his split from IMMORTAL and his founding of ABBATH in the May issue of the German Metal Hammer. For readers of English, Metal Hammer UK contained an exclusive news feature on ABBATH in their May issue.
ABBATH on Facebook
ABBATH homepage
View Abbath