ABBATH – Abbath – September 4, 2018
Posted on September 4, 2018
More information about Abbath
Norwegian metallers ABBATH will kick off their European mini tour with Danish death metal band BAEST on September 5, in Leiden, the Netherlands. A list of all currently confirmed dates including festivals can be viewed below.
The tour sees the band play a selected number of club shows in the Netherlands, Germany, Slovenia and Hungary. ABBATH will also make an appearance at the MEH SUFF! Festival in Zürich, Switzerland.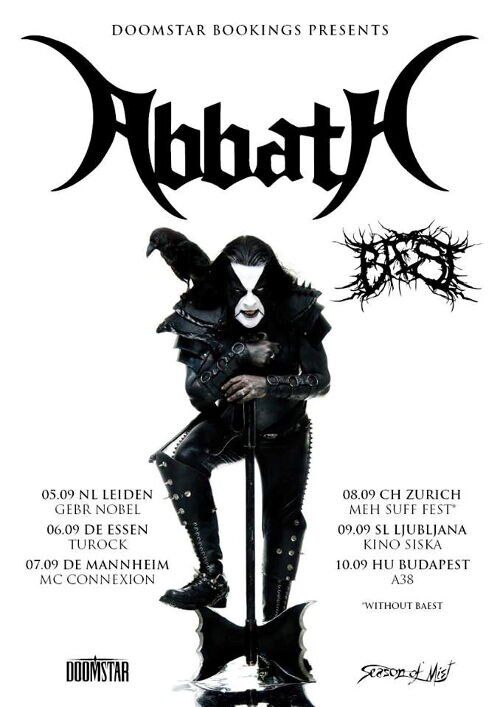 ABBATH
05 Sep 18 Leiden (NL) Gebr. Nobel (+ Baest)
06 Sep 18 Essen (DE) Turock (+ Baest)
07 Sep 18 Mannheim (DE) MC Connexion (+ Baest)
08 Sep 18 Zürich (CH) Meh Suff Fest
09 Sep 18 Ljubljana (SL) Kino Siska (+ Baest)
10 Sep 18 Budapest (HU) A38 (+ Baest)
ABBATH will be touring in support of their chart-storming eponymous debut album. Artwork and track-list of 'Abbath' can be viewed below.
To War
Winter Bane
Ashes Of The Damned
Ocean Of Wounds
Count The Dead
Fenrir Hunts
Root Of The Mountain
Eternal
Join ABBATH on their official Facebook page.
'Abbath' can still be ordered in various formats in the Season of Mist shop.
View Abbath