ABBATH – Outstrider – January 8, 2020
Posted on January 8, 2020
More information about Outstrider
ABBATH are currently preparing for the European tour that will kick off on January 23 in Weimar, Germany. Alongside label mates 1349 and VLTIMAS and support act NUCLEAR, the package will hit the stages in Germany, the Netherlands, Belgium, the United Kingdom, France, Spain, Switzerland, Italy, Czech Republic, Poland, Denmark and finally Sweden.
ABBATH has furthermore released a video message to all Outstriders in Europe, stating that the tour will happen as planned and that he has spent the last two months in recovery. The video can be seen at the official Season of Mist Youtube Channel HERE.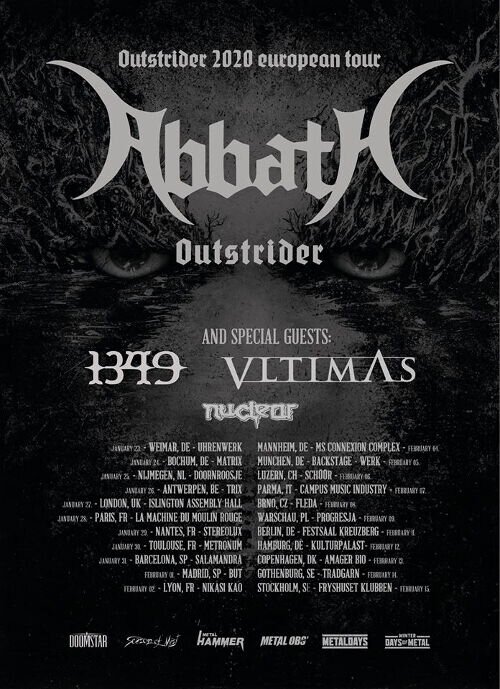 ABBATH + VLTIMAS + 1349 + NUCLEAR
23 Jan 20 Weimar (DE) Uhrenwerk
24 Jan 20 Bochum (DE) Matrix
25 Jan 20 Nijmegen (NL) Doornroosje
26 Jan 20 Antwerpen (BE) Trix
27 Jan 20 London (UK) Islington Assembly Hall
28 Jan 20 Paris (FR) La Machine Du Moulin Rouge
29 Jan 20 Nantes (FR) Stereolux
30 Jan 20 Toulouse (FR) Metronum
31 Jan 20 Barcelona (ES) Salamandra
01 Feb 20 Madrid (ES) But
02 Feb 20 Lyon (FR) Nikasi Kao
04 Feb 20 Mannheim (DE) MS Connexion Complex
05 Feb 20 München (DE) Backstage
06 Feb 20 Luzern (CH) Schüür
07 Feb 20 Parma (IT) Campus Music Industry
08 Feb 20 Brno (CZ) Fleda
09 Feb 20 Warschau (PL) Progresja
11 Feb 20 Berlin (DE) Festsaal Kreuzberg
12 Feb 20 Hamburg (DE) Kulturpalast
13 Feb 20 Copenhagen (DK) Amager Bio
14 Feb 20 Gothenburg (SE) Tradgarn
15 Feb 20 Stockholm (SE) Fryhuset Klubben
ABBATH will be touring in support of their latest release 'Outstrider', which is still available in the Season of Mist shop.
Join ABBATH on their official Facebook page.
View Abbath