ALKALOID – New Signing – November 7, 2016
Posted on November 7, 2016
Season of Mist are proud to announce the signing of ALKALOID. These German and Dutch progressive extremists will release their sophomore full-length on the label next year.

Regarding their signing, the band comments: "After crowdfunding and self-releasing our debut album 'The Malkuth Grimoire', we have come to a point where we simply need a reliable partner, who fully understands our musical vision and believes in it 100%. Therefore, Season of Mist is the perfect label for us. We are extremely excited about our collaboration and cannot wait to start producing our next album."
Listen to 'The Malkuth Grimoire' on Bandcamp.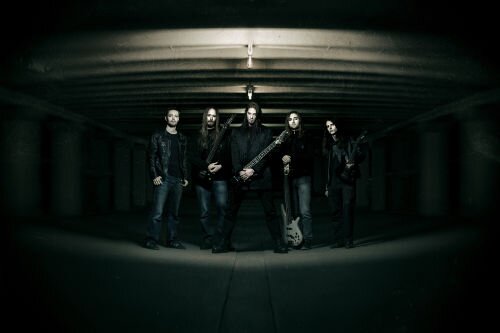 Line-up
Morean – vocals, guitars
Christian Muenzner – guitars
Danny Tunker – guitars
Linus Klausenitzer – bass
Hannes Grossmann – drums
Drummer Hannes Grossmann (OBSCURA, NECROPHAGIST, BLOTTED SCIENCE) and singer as well as guitarist Morean (DARK FORTRESS, NONEUCLID) founded ALKALOID in 2013. Their expressed goal was to extend the dynamic range used in metal to its extreme limits. A full line-up came together quickly by adding further members Christian Muenzner (OBSCURA, NECROPHAGIST, SPAWN OF POSSESSION), Danny Tunker (ABORTED, GOD DETHRONED) on lead guitars, and Linus Klausenitzer (OBSCURA) on bass. This collective of friends started to work on their debut album 'The Malkuth Grimoire', which was successfully crowdfunded and self-released in March 2015. After playing shows across Europe and one special gig in Cairo, Egypt, which included a video shooting for their song "Cthulhu", ALKALOID are now signed to Season of Mist and preparing to record their sophomore masterpiece.
Join ALKALOID on their official Facebook page.
View Alkaloid