ANCIIENTS – Voice of the Void – March 6, 2018
Posted on March 6, 2018
More information about Voice of the Void
ANCIIENTS have embarked embark on their an extensive European tour in support of the Canadian heavy rockers' latest full-length, 'Voice of the Void'. A full list of confirmed dates can be found below.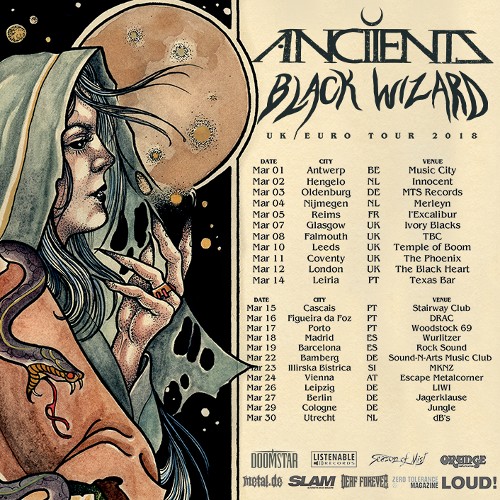 Frontman Kenny Cook commented: "Hello, friends in Europe and the UK! We are thrilled to be coming back to play for you for the first time since 2014. We're excited to come to lots of places we've yet to play, and to share our latest record with you all. We are bringing our dear friends in Black Wizard along with us this time around. It's going to be a great tour! See all of you maniacs soon!"
ANCIIENTS + BLACK WIZARD
07 Mar 18 Glasgow (UK) Ivory Blacks
10 Mar 18 Leeds (UK) Temple of Boom
11 Mar 18 Coventy (UK) The Phoenix
12 Mar 18 London (UK) The Black Heart
14 Mar 18 Leiria (PT) Texas Bar
15 Mar 18 Cascais (PT) Stairway Club
16 Mar 18 Figueira de Foz (PT) DRAC
17 Mar 18 Porto (PT) Woodstock 69
18 Mar 18 Madrid (ES) Wurlitzer
19 Mar 18 Barcelona (ES) Rock Sound
22 Mar 18 Bamberg (DE) Sound-N-Arts Music Club
23 Mar 18 Illirska Bistrica (SI) MKMZ
24 Mar 18 Wien (AT) Escape Metal Corner
26 Mar 18 Leipzig (DE) Liwi
27 Mar 18 Berlin (DE) Jägerklause
29 Mar 18 Köln (DE) Jungle
30 Mar 18 Utrecht (NL) dB's
Cover artwork and album details can be found below.
Following the Voice
Buried in Sand
Worshipper
Pentacle
Descending
Ibex Eye
My Home, My Gallows
Serpents
Incantations
'Voice of the Void' can still be ordered in various formats from the Season of Mist shop
Join ANCIIENTS on their official Facebook page!
View Anciients