ANCIIENTS – Voice of the Void – March 27, 2018
Posted on March 27, 2018
More information about Voice of the Void
While about to play the final shows of their European tour, ANCIIENTS have won the prestigious JUNO Award, which is the Canadian equivalent of the American Grammy in the category metal/hard rock record for their latest full-length 'Voice of the Void'.
ANCIIENTS comment: "Wow! We just woke up in Vienna to the news that we have won the Juno award for best metal/hard rock record at the 2018 Juno's. Needless to say we are stoked, but owe a lot of thanks. First off we want to thanks our families for allowing us to take time away to do what we love to do. Jesse Gander, you're a magician, thanks to you and Mark for all of your hard work helping us make this record. Gordon Conrad, Michael Berberian, Enrique, Greg, and everyone at Season of Mist. Thank you guys for everything over the last 5 years, it's been amazing working with you guys! Sean Palmerston, you're the man, thanks for everything over the years! Alison for your amazing artwork, you kill it every time! Sab, for doing anything and everything we ask of you. You're a great friend and are our MVP behind the scenes. Thanks to all of our fans for the continue support! Onward and upwards."
Please see below for a list of all remaining shows on the current European tour.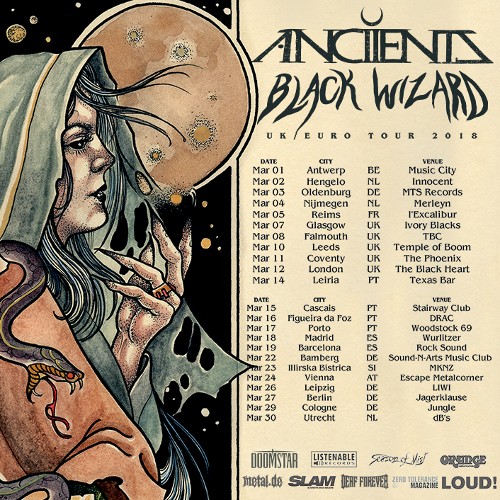 ANCIIENTS + BLACK WIZARD
27 Mar 18 Berlin (DE) Jägerklause
29 Mar 18 Köln (DE) Jungle
30 Mar 18 Utrecht (NL) dB's
ANCIIENTS are touring in support of their latest release 'Voice of the Void'. Artwork and track list can be viewed below.
Following the Voice
Buried in Sand
Worshipper
Pentacle
Descending
Ibex Eye
My Home, My Gallows
Serpents
Incantations
'Voice of the Void' can still be ordered in various formats from the Season of Mist shop
Join ANCIIENTS on their official Facebook page!
View Anciients