ARCHSPIRE – The Lucid Collective – January 15, 2015
Posted on January 15, 2015
More information about The Lucid Collective
Fast-rising, technical death metal force ARCHSPIRE have announced a new US tour! The road trip starts on March 3rd and sees the band perform alongside FALLUJAH across the Western US, and playing select dates across Seattle, Denver, Portland, San Francisco, Austin, and more. The band will also perform at South By Southwest as part of the Metalsucks Showcase and more. A full list of confirmed tour dates can be found below.
All dates with FALLUJAH, LORNA SHORE, and THE ZENITH PASSAGE
3/3 Denver, CO @ Marquis Theater
3/4 Salt Lake City, UT @ Loading Dock
3/5 Boise, ID @ The Shredder
3/6 Spokane, WA @ Northwest Pinnacle
3/7 Seattle, WA @ El Corazon
3/8 Portland, OR @ Hawthorne Theater
3/10 Sacramento, CA @ The Boardwalk
3/11 San Francisco, CA @ DNA Lounge
3/12 Hollywood, CA @ The Whiskey
3/14 Santa Ana, CA @ Malones
3/15 San Diego, CA @ House of Blues
3/16 Phoenix, AZ @ Joe's Grotto
3/18 Austin, TX @ Metalsucks SXSW Showcase
3/20 Austin, TX @ NEMHF SXSW Showcase
3/21 Mission, TX @ Never Say Never Fest
3/22 Fort Worth, TX @ South by So What Fest
ARCHSPIRE have previously released new footage of drummer extraordinaire Spencer Prewett playing live at this year's Housecore Horror Fest. Watch the sticksman perform the track "Seven Crowns and the Oblivion Chain" SickDrummer.com.
"Seven Crowns and the Oblivion Chain" is taken from the band's current album 'The Lucid Collective', which is streaming in full here and is available via the Season of Mist shop.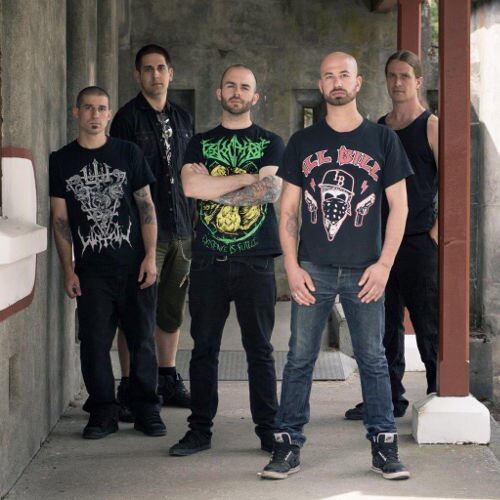 'The Lucid Collective' was recorded at Rain City Recorders, in Vancouver, B.C. and was engineered, mixed, and mastered by Stuart McKillop (BAPTISTS, BISON B.C.) with additional engineering by Curtis Buckoll and Mark Mckitrick. The band documented their stay at the studio, and the footage can be found here.
Artwork and tracklist for 'The Lucid Collective' can be found below:
Lucid Collective Somnambulation
Scream Feeding
The Plague Of AM
Fathom Infinite Depth
Join Us Beyond
Seven Crowns And The Oblivion Chain
Kairos Chamber
Spontaneous Generation
View Archspire