ARCHSPIRE – The Lucid Collective – July 2, 2015
Posted on July 2, 2015
More information about The Lucid Collective
Technical death metal force ARCHSPIRE have released a pro-shot live clip of the track "Rapid Elemental Dissolve" taken from their current album 'The Lucid Collective'. The high-quality soundboard mixing van be viewed here. This footage was taken during the band's stop in Montreal, Canada as part of their recent North American tour alongside ABORTED. Please see below for new show dates.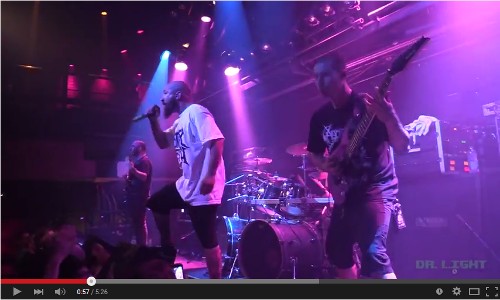 ARCHSPIRE have announced two special shows in August. The first will be as part of this year's Louisville Deathfest. There the band will perform alongside ARSIS, MALIGNANCY, DISGORGE, ALLEGAEON, and more. The second show sees the band headlining in Johannesburg, which will be their first time in South Africa.
08 Aug 15 Louisville, KY (US) Diamond Pub (Louisville Deathfest)
22 Aug 15 Johannesburg (SA) Iron Tusk
ARCHSPIRE are touring in support of their acclaimed new album 'The Lucid Collective', which has been garnering rave reviews for its ferocious blend of technical prowess and extreme speed. 'The Lucid Collective' is streaming here and available from the Season of Mist shop.
Lucid Collective Somnambulation
Scream Feeding
The Plague Of AM
Fathom Infinite Depth
Join Us Beyond
Seven Crowns And The Oblivion Chain
Kairos Chamber
Spontaneous Generation
ARCHSPIRE previously released a guitar play through of the track "Seven Crowns and the Oblivion Chain" with Ibanez Guitars. The clip features guitarists Dean Lamb and Tobi Morelli, and is part of an ongoing series of technical videos provided by the band. This includes an instructional guitar column via Gear Gods, guitar and drum instruction clips of the track "Lucid Collective Somnambulation" at Guitar World and DRUM! Magazine respectively, as well as two vocal play-throughs featuring front-man Oliver Rae Aleron for the tracks "Fathom Infinite Depth" and "Lucid Collective Somnambulation". A video of drummer Spencer Prewett playing live at this year's Housecore Horror Fest, which can be viewed at SickDrummer.com.
"If you are asking, 'Is there something new to do in Death Metal?' ARCHSPIRE is the answer" (Technicaldeathmetal.com)
"This is a truly eye-popping convulsion of tech-death, with schizophrenic rhythms, astounding technical riffing and drum-work, and tiny threads of reappearing melody that stitch the songs together into cohesive wholes. And I'm not sure I've ever heard a death-metal vocalist bark out the lyrics faster than ARCHSPIRE's… This is most definitely a band to keep your eyes on; you will hear more about them." (No Clean Singing)
"ARCHSPIRE have released a gem. It's definitely technical death, and it adroitly blends elements of various tech death bands together. The rhythm guitar work varies from choppy and percussive to fluid and melodic. The blasting and double bass work are absurdly fast, but remain fluent and rhythmic rather than wooden or jittery. The hard to soft musical transitions are as natural as I've ever heard in this genre." (Invisible Oranges)
"The pick-me-up comes in the form of ARCHSPIRE, a gang of happy-looking Canadians who might have been widely unknown to most present before this performance, but surely no longer. With a technical proficiency bordering on OMFG levels, they still achieve what lacks in a lot of other bands like this: the feat of actually writing songs. What's more, they noticeably enjoy what they do, so smiles are abundant even if face-peeling technical death metal about alien monoliths and planets being devoured is going on." (Terrorizer Magazine)
View Archspire