News update : ARCHSPIRE – May 4, 2017
Posted on May 4, 2017
Technical death metal force ARCHSPIRE will embark on a Canadian tour this month in support of their latest release 'The Lucid Collective'.
The tour sees the band traveling alongside PSYCROPTIC and kicks of this week in Edmonton (AB). A full list of confirmed dates can be found below.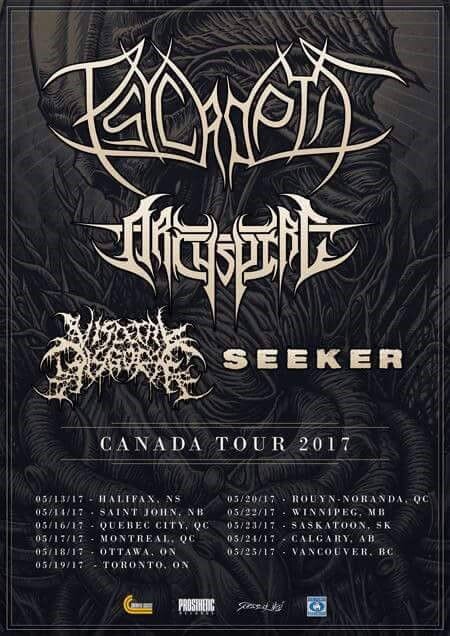 ARCHSPIRE
04 May 17 Edmonton (AB) Mercury Room
06 May 17 Thunder Bay (ON) Crocks
08 May 17 Sudbury (ON) The Asylum
10 May 17 Trois-Rivieres (QC) Rock Cafe Le Stage
11 May 17 Sherbrooke (QC) Murdoch
ARCHSPIRE + PSYCROPTIC + VISCERAL DISGORGE + SEEKER
13 May 17 Halifax (NS) Gus
14 May 17 Moncton (NB) Le Coude
15 May 17 Rimouski (QC) Bar Le Match
16 May 17 Quebec City (QC) L'anti Bar & Spectacles
17 May 17 Montreal (QC) Foufounes Electriques
18 May 17 Ottawa (ON) Mavericks
19 May 17 Rouyn-Noranda (QC) Scène Évolu-Son
20 May 17 Toronto (ON0 Coalition
22 May 17 Winnipeg (MB) The Park Theatre
23 May 17 Saskatoon (SK) Vangelis
24 May 17 Calgary (AB) Dickens
25 May 17 Vancouver (BC) Modified Ghost Festival – Red Room
'The Lucid Collective' can still be ordered in various formats from the Season of Mist shop.
Join ARCHSPIRE on their official Facebook page!
View Archspire