ARCHSPIRE – Relentless Mutation – October 30, 2017
Posted on October 30, 2017
More information about Relentless Mutation
In the wake of releasing their highly praised latest album, 'Relentless Mutation' on September 22nd, ARCHSPIRE are announcing their tour-support for pig-squeal-masters DESPISED ICON in Europe alongside MALEVOLENCE and VULVODYNIA. A full list of confirmed tour dates can be found below.
The Canadian tech death shooting stars will start to ravage the old continent at the Conne Island in Leipzig, Germany on February 8th and continue to devastate stages in nine more countries including the British Isles until a final curtain fall at the famous Dynamo in Eindhoven, the Netherlands on the 24th of February. A full list of confirmed ARCHSPIRE shows can be viewed below, including the recently announced dates with OBSCURA in Japan.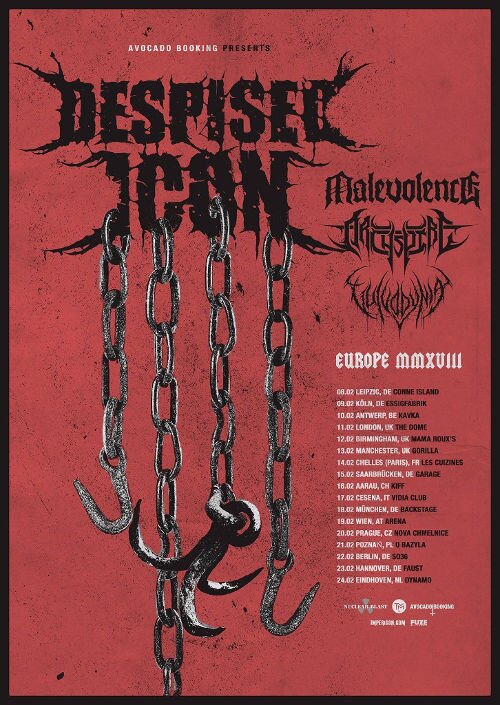 ARCHSPIRE + DESPISED ICON + MALEVOLENCE + VULVODYNIA
08 Feb 18 Leipzig (DE) Conne Island
09 Feb 18 Köln (DE) Essigfabrik
10 Feb 18 Antwerpen (BE) Kavka
11 Feb 18 London (UK) The Dome
12 Feb 18 Birmingham (UK) Mama Roux's
13 Feb 18 Manchester (UK) Gorilla
14 Feb 18 Chelles (Paris) (FR) Les Cuizines
15 Feb 18 Saarbrücken (DE) Garage
16 Feb 18 Aarau (CH) Kiff
17 Feb 18 Cesena (IT) Vidia Club
18 Feb 18 München (DE) Backstage
19 Feb 18 Wien (AT) Arena
20 Feb 18 Praha (CZ) Nova Chmelnice
21 Feb 18 Poznan (PL) U Bazyla
22 Feb 18 Berlin (DE) SO36
23 Feb 18 Hannover (DE) Faust
24 Feb 18 Eindhoven (NL) Dynamo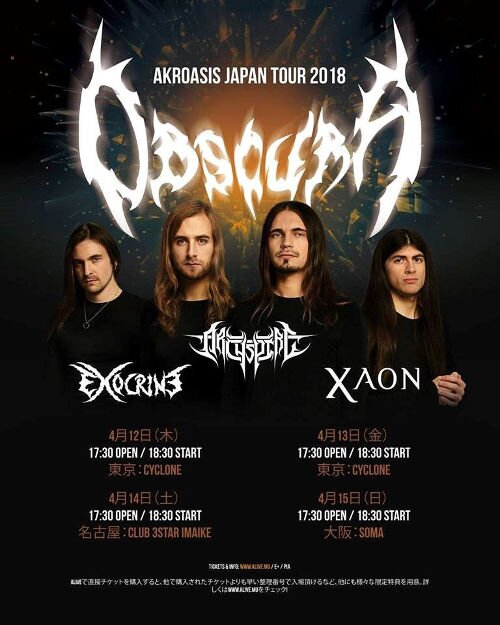 ARCHSPIRE + OBSCURA +EXOCRINE + XAON
12 Apr 18 Tokyo (JP) Cyclone
13 Apr 18 Tokyo (JP) Cylcone
14 Apr 18 Nagoya (JP) Club 3 Start Imaike
15 Apr 18 Osaka (JP) Soma
'Relentless Mutation' can still be ordered in various formats from the Season of Mist shop
Join ARCHSPIRE on their official Facebook page!
View Archspire