ARCHSPIRE – Relentless Mutation – March 13, 2018
Posted on March 13, 2018
More information about Relentless Mutation
ARCHSPIRE guitarist Dean Lamb has announced a solo guitar clinic at Long and McQuade in Port Coquitlam, BC. The clinic will take place on March 24, and will include a performance, gear demos, lectures, and a special Q&A session. More information about Lamb's special appearance can be found below.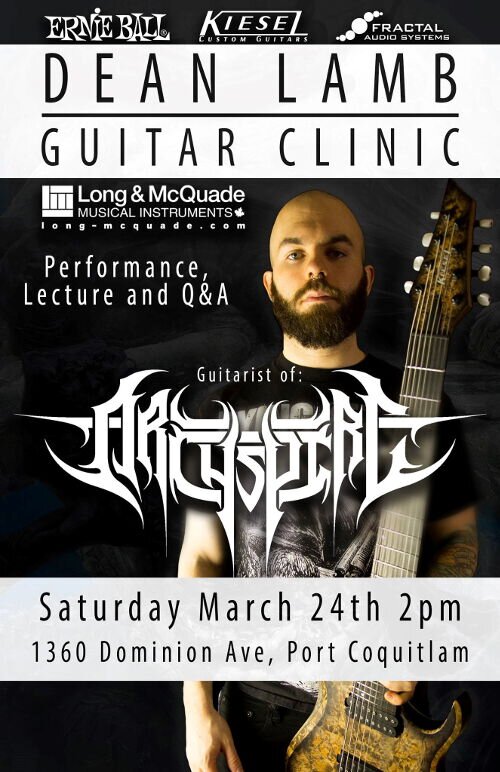 Regarding the clinic, Dean Lamb comments: "I'll be covering the techniques used in Archspire's music, as well as some new things I've been working on. Sweeping, tapping, hybrid picking, and combinations of these techniques to create new sounds, that will no doubt prove as much of a challenge to aspiring guitarists as they have presented to me. If you're looking to push yourself further, and looking for new inspiration on the instrument, you've come to the right place.
ARCHSPIRE are currently preparing to embark on the next leg of their 'Relentless Mutation' world tour. The band will leave for their first-ever Japanese tour (with OBSCURA) and pick up the "Chaos and Carnage" US tour with CARNIFEX and OCEANO immediately upon their return.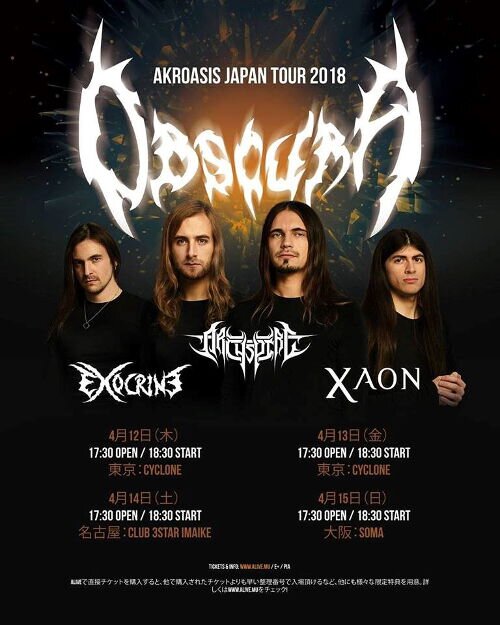 ARCHSPIRE
06 Apr 18 Vancouver (CA) Astoria
ARCHSPIRE + OBSCURA + EXOCRINE + XAON
12 Apr 18 Tokyo (JP) Cyclone
13 Apr 18 Tokyo (JP) Cylcone
14 Apr 18 Nagoya (JP) Club 3 Start Imaike
15 Apr 18 Osaka (JP) Soma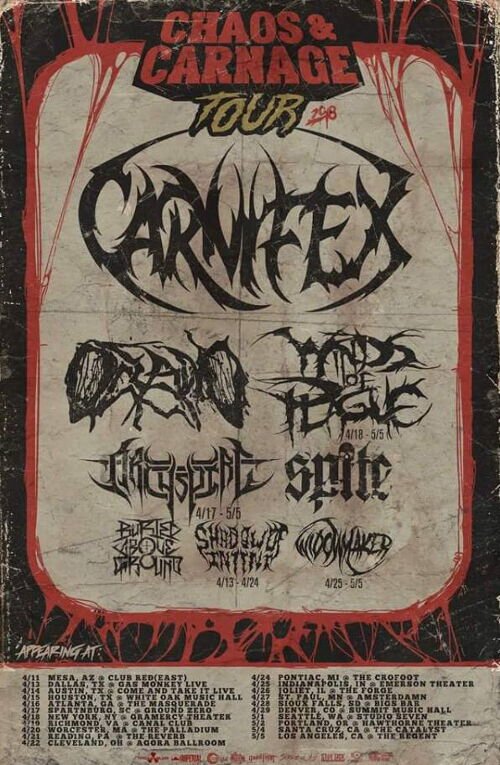 ARCHSPIRE + CARNIFEX + OCEANO
18 Apr 18 New York, NY (US) The Gramercy Theatre
19 Apr 18 Richmond, VA (US) The Canal Club
20 Apr 18 Worcester, MA (US) The Palladium
21 Apr 18 Reading, PA (US) Reverb
22 Apr 18 Cleveland, OH (US) Agora Theatre
24 Apr 18 Pontiac, MI (US) The Crofoot
25 Apr 18 Indianapolis, IN (US) Emerson Theater
26 Apr 18 Joliet, IL (US) The Forge
27 Apr 18 Saint Paul, MN (US) Amseterdam Bar and Hall
28 Apr 18 Sioux Falls (US) Bigs Bar
29 Apr 18 Denver, CO (US) The Summit Music Hall
01 May 18 Seattle, WA (US) Studio Seven
02 May 18 Portland, OR (US) Hawthorne Theater
04 May 18 Santa Cruz, CA (US) The Catalyst
05 May 18 Los Angeles, CA (US) The Regent Theater
'Relentless Mutation' can still be ordered in various formats from the Season of Mist shop
Join ARCHSPIRE on their official Facebook page!
View Archspire