ARCHSPIRE – Relentless Mutation – June 19, 2018
Posted on June 19, 2018
More information about Relentless Mutation
Technical death metallers ARCHSPIRE have announced a headlining tour in Canada and first ever shows in Australia and New-Zealand. During the tour, the band will play in support of their latest release 'Relentless Mutation'. See the full list of tour data below.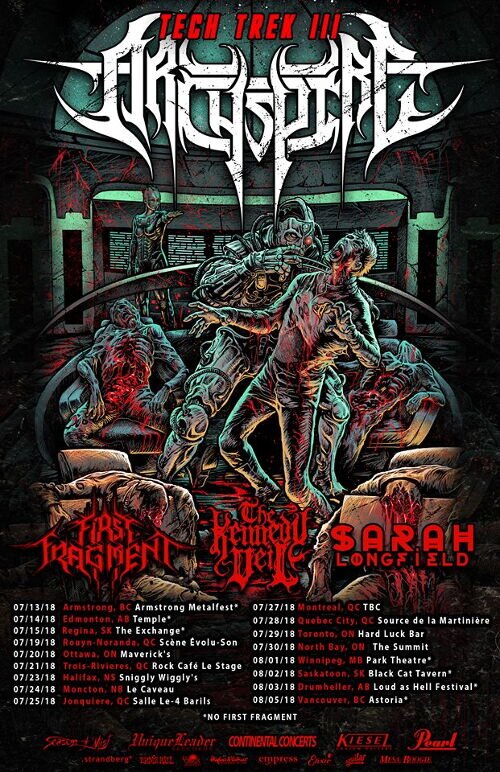 ARCHSPIRE With THE KENNEDY VEIL and SARAH LONGFIELD
13 Jul 18 Armstrong, BC (CA) Armstrong Metalfest
14 Jul 18 Edmonton, AB (CA) Temple
17 Jul 18 Regina, SK (CA) The Exchange
19 Jul 18 Rouyn-Noranda, QC (CA) Scène Évolu-Son
20 Jul 18 Ottawa, ON (CA) Maverick's
21 Jul 18 Trois-Rivieres, QC (CA) Rock Café Le Stage
23 Jul 18 Halifax, NS (CA) Sniggly Wiggly's
24 Jul 18 Moncton, NB (CA) Le Caveau
25 Jul 18 Jonquiere, QC (CA) Salle Le-4 Barils
27 Jul 18 Montreal, QC (CA) TBD
28 Jul 18 Quebec City, QC (CA) Source de la Martinière
29 Jul 18 Toronto, ON (CA) Hard Luck Bar
30 Jul 18 North Bay, ON (CA) The Summit
01 Aug 18 Winnipeg, MB (CA) Park Theatre
02 Aug 18 Saskatoon, SK (CA) Black Cat Tavern
03 Aug 18 Drumheller, AB (CA) Loud as Hell Festival
05 Aug 18 Vancouver, BC (CA) Astoria
Australian tourdates With PSYCROPTIC
16 Aug 18 Brisbane (AU) Crowbar
17 Aug 18 Sydney (AU) The Bald Faced Stag
18 Aug 18 Melbourne (AU) Max Watts
19 Aug 18 Canberra (AU) The Basement
21 Aug 18 Auckland (NZ) Whammy
22 Aug 18 Wellington (NZ) Valhalla
24 Aug 18 Hobart (AU) The Brisbane Hotel
25 Aug 18 Adelaide (AU) Fowlers
ARCHSPIRE will play in support of their latest album 'Relentless Mutation'. The cover artwork and the track-list of the record can be viewed below.
Involuntary Doppelgänger
Human Murmuration
Remote Tumour Seeker
Relentless Mutation
The Mimic Well
Calamus Will Animate
A Dark Horizontal
'Relentless Mutation' is still available for purchase in the Season of Mist shop.
Join ARCHSPIRE on their official Facebook page!
View Archspire