ARCHSPIRE – Relentless Mutation – July 25, 2018
Posted on July 25, 2018
More information about Relentless Mutation
ARCHSPIRE have teamed up with REVOCATION, SOREPTION and RIVERS OF NIHIL, for the ultimate technical death metal tour in Europe, this December. A full list of tour dates can be viewed below.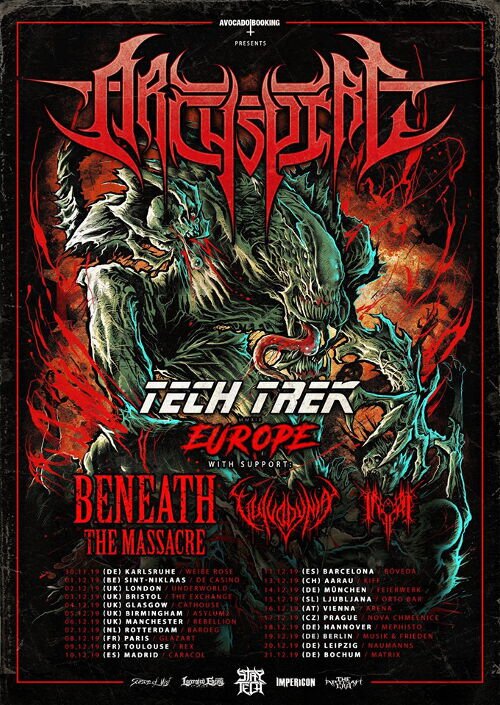 ARCHSPIRE with REVOCATION, RIVERS OF NIHIL, SOREPTION
28 nov 18 Berlin (DE) Badehaus
29 nov 18 Aarhus (DK) Voxhall
30 nov 18 Hannover (DE) Chez Heinz
1 dec 18 Dresden (DE) Puschkin
2 dec 18 Poznań (PL) U Bazyla
3 dec 18 Brno (CZ) Melodka
4 dec 18 Vienna (AT) Viper Room
5 dec 18 Ljubljana (SL) Orto Bar
6 dec 18 Munich (DE) Backstage
7 dec 18 Milano (IT) Circolo Svolta
8 dec 18 Aaurau (CH) Kiff
9 dec 18 Marseille (FR) Jas Rod
10 dec 18 Barcelona (ES) Razzmatazz
11 dec 18 Madrid (ES) Caracol
12 dec 18 Porto (PT) Hard Club
13 dec 18 Bilbao (ES) Stage Live
14 dec 18 Pau (FR) L' Ampli
15 dec 18 Paris (FR) Petit Bain
16 dec 18 London (UK) Underworld
17 dec 18 Birmingham (UK) Madam Roux
18 dec 18 Bristol (UK) The Fleece
19 dec 18 Machester (UK) Rebelliom
20 dec 18 Brussels (BE) Magasin 4
21 dec 18 Nijmegen (NL) Doornroosje
22 dec 18 Esen (DE) Turock
The tour sees the band invading Germany, Poland, Denmark, Czech Republic, Austria, Slovenia, Italy, France, Spain, Portugal, the United Kingdom and the Netherlands.
ARCHSPIRE will be touring in support of their acclaimed latest album, 'Relentless Mutation'. The cover of 'Relentless Mutation' by renowned artist Eliran Kantor can be viewed below.
Involuntary Doppelgänger
Human Murmuration
Remote Tumour Seeker
Relentless Mutation
The Mimic Well
Calamus Will Animate
A Dark Horizontal
'Relentless Mutation' is still available in various formats at the Season of Mist shop.
Join ARCHSPIRE on their official Facebook page here.
View Archspire