ARCHSPIRE – Relentless Mutation – October 30, 2018
Posted on October 30, 2018
More information about Relentless Mutation
ARCHSPIRE are now premiering a play-through video for the song "Involuntary Dopplegänger". The track has been taken from the full-length, 'Relentless Mutation', which was released via Season of Mist on March 23rd, 2018.
The video is streaming via the official Season of Mist YouTube channel here.
On previous news, ARCHSPIRE have teamed up with REVOCATION, SOREPTION and RIVERS OF NIHIL, for the ultimate technical death metal tour in Europe, this December. A full list of currently confirmed shows can be viewed below.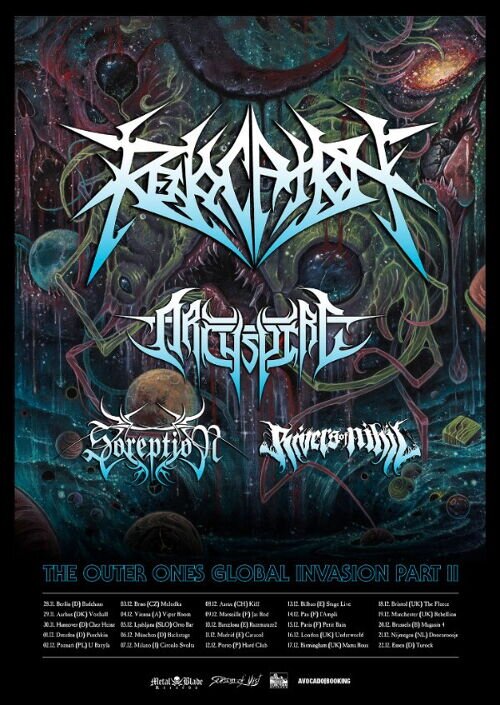 ARCHSPIRE – European tour dates with REVOCATION, SOREPTION and RIVERS OF NIHIL
28 nov 18 Berlin (DE) Badehaus
29 nov 18 Aarhus (DK) Voxhall
30 nov 18 Hannover (DE) Chez Heinz
1 dec 18 Dresden (DE) Puschkin
2 dec 18 Poznań (PL) U Bazyla
3 dec 18 Brno (CZ) Melodka
4 dec 18 Vienna (AT) Viper Room
5 dec 18 Ljubljana (SL) Orto Bar
6 dec 18 Munich (DE) Backstage
7 dec 18 Milano (IT) Circolo Svolta
8 dec 18 Aaurau (CH) Kiff
9 dec 18 Marseille (FR) Jas Rod
10 dec 18 Barcelona (ES) Razzmatazz
11 dec 18 Madrid (ES) Caracol
12 dec 18 Porto (PT) Hard Club
13 dec 18 Bilbao (ES) Stage Live
14 dec 18 Pau (FR) L' Ampli
15 dec 18 Paris (FR) Petit Bain
16 dec 18 London (UK) Underworld
17 dec 18 Birmingham (UK) Madam Roux
18 dec 18 Bristol (UK) The Fleece
19 dec 18 Machester (UK) Rebelliom
20 dec 18 Brussels (BE) Magasin 4
21 dec 18 Nijmegen (NL) Doornroosje
22 dec 18 Essen (DE) Turock
Join ARCHSPIRE on their official Facebook page.
'Relentless Mutation' is still available in the Season of Mist shop.
View Archspire