ÁRSTÍÐIR – Nivalis – October 16, 2018
Posted on October 16, 2018
More information about Nivalis
ÁRSTÍÐIR have announced more European tour dates in December in support of their latest release 'Nivalis'. The "A Special Holiday Concert" run will start at the UT Connewitz in Leipzig (DE) on the 3rd of December and sees the band traveling through 6 more countries before a final curtain on the 20th of December at the Spielbaden in Dornbirn (AT).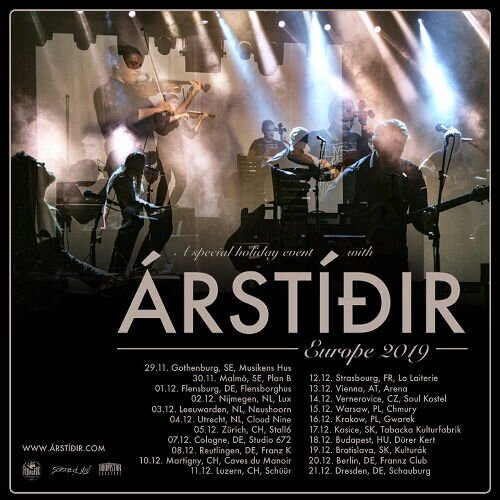 ÁRSTÍÐIR comment: "For ten years now we've been playing special holiday shows in the Fríkirkjan Church in Reykjavik, mixing our own material with traditional Icelandic Christmas songs that we arrange specifically for the occasion. This December we're bringing the show on the road in Europe! A lot of you have seen the YouTube recordings through the years and expressed the desire to one day experience this in person – and so we're super happy to finally be able to bring this show to you. See you in December!"
ÁRSTÍÐIR "A Special Holiday Concert"
03 Dec 18 Leipzig (DE) UT Connewitz
04 Dec 18 Helmond (NL) Cacao Fabriek
05 Dec 18 Hamburg (DE) Imperial Theater
08 Dec 18 Berlin (DE) Stummfilmkino Delphi
09 Dec 18 Reichenbach (DE) Altes Rathaus
10 Dec 18 Aschaffenburg (DE) Colosaal
11 Dec 18 Brno (CZ) Melodka
12 Dec 18 Bratislava (SK) Klub Kulturak
13 Dec 18 Budapest (HU) A38
14 Dec 18 Annaberg Bucholz (DE) Alte Brauerrei
15 Dec 18 Maastricht (NL) tba
15 Dec 18 Arnhem (NL) tba
16 Dec 18 Sneek (NL) Bolwerk
16 Dec 18 Amsterdam (NL) Paradiso Noord
17 Dec 18 Roeselare (BE) De Verlichte Geest
18 Dec 18 Thun (CH) Mokka
19 Dec 18 Zurich (CH) Ebrietas Bar
20 Dec 18 Dornbirn (AT) Spielbaden
ÁRSTÍÐIR will be playing in support of their newest release. 'Nivalis' can be ordered in various formats from the Season of Mist shop.
Join ÁRSTÍÐIR on their official Facebook page.
View Árstíðir