ATHEIST TO TOUR EUROPE
Posted on December 1, 2010
More information about Jupiter
Extreme technical metal pioneers ATHEIST's fourth album "Jupiter" was released on last November 8th. To support this new critically acclaimed jewel, the Florida gang will tour Europe in April 2011! Here are the tour dates scheduled so far:
22.04.11 Norway Oslo @ Rockefeller Music Hall, Inferno Fest
23.04.11 UK London @ Relentless Garage
24.04.11 Germany Essen @ Turock
25.04.11 France Paris @ Divan du Monde
26.04.11 Switzerland Zürich @ Dynamo
27.04.11 Italy Milano @ Live Club
28.04.11 Germany München @ Feierwerk, Kranhalle
29.04.11 Holland Tilburg @ Neurotic Death Fest
30.04.11 Greece Athens @ Kyttaro Live
Frontman Kelly Shaefer comments: "Greetings everyone, thank you all for the overwhelming support of our new album 'Jupiter', we are humbled by all of the nice things being said about the new stuff and cannot wait to bring it to the stage. So now it's time to come pull some faces off in Europe on our first headlining run in support of the new album! And we are stoked to share the tour with the boys from Exhumed. We are able to play a few places we have never been before so we are all very excited about that, as well as the fact that we of course have some fun new shit to play live – the songs from 'Jupiter' along with songs from all three prior albums. See you all on tour in 2011!"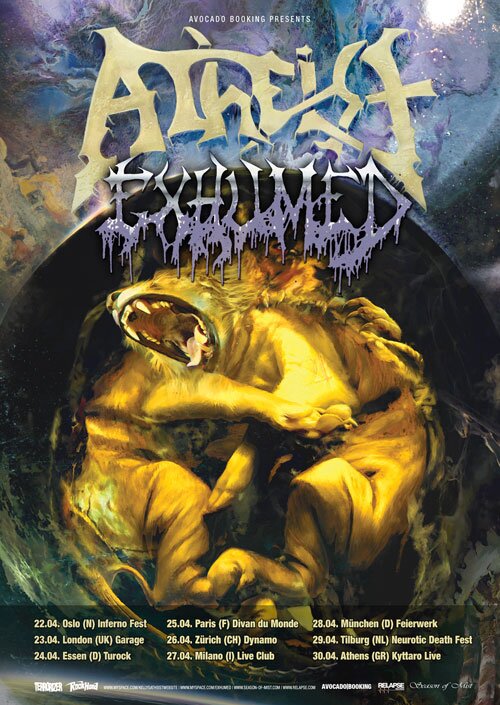 "Jupiter" is available in various formats on Season of Mist's e-shop. The digipak + sticker edition limited to the first pressing is nearly sold-out!
View Atheist