AUÐN – Farvegir Fyrndar – November 15, 2017
Posted on November 15, 2017
More information about Farvegir Fyrndar
AUÐN have revealed their highly anticipated complete new full-length, 'Farvegir Fyrndar', which was released on November 10th. 'Farvegir Fyrndar' is now exclusively streaming via the official media partners listed below.
Metal-Roos (AU)
Spark (CZ)
Metal Hammer (DE)
Power of Metal (DK)
Rockzone (ES)
Inferno (FI)
La Grosse Radio (FR)
Rocking (GR)
Lángoló Gitárok (HU)
Metaljesus Magazine (IN)
Albumm (IS)
Metalitalia (IT)
Never Mind The Hype (NL)
Kvlt (PL)
Loud (PT)
Metalfan (RO)
Hardwired (RS)
Crank It Up (SE)
Antichrist (UA)
Metal Hammer (UK)
AUÐN comment: "We are proud to unveil our new album 'Farvegir Fyrndar' in full. For us it has been a long journey reaching this point. We put a lot of effort into making this second album as vast and powerful as possible. The songs are more complex and driven by emotion. Hopefully, they will strike you as hard as they did to us. 'Farvegir Fyrndar' is in itself a journey as the title entails, which roughly translates as 'Ancient Paths' or 'Ancient Riverbeds'. The feelings portrayed in these songs revolve around depression, loss, and the unknown as embodied by the vivid landscapes of our homeland, Iceland."
Víðir Mýrmann Þrastarson created the artwork of 'Farvegir Fyrndar', which can be viewed below.
Veröld Hulin
Lífvana Jörð
Haldreipi Hugans
Prísund
Ljósaslæður
Blóðrauð Sól
Eilífar Nætur
Skuggar
Í Hálmstráið Held
AUÐN have previously announced a European tour also joined by label mates THE GREAT OLD ONES in support of GHAALS WYRD. A full list of confirmed dates can be found below.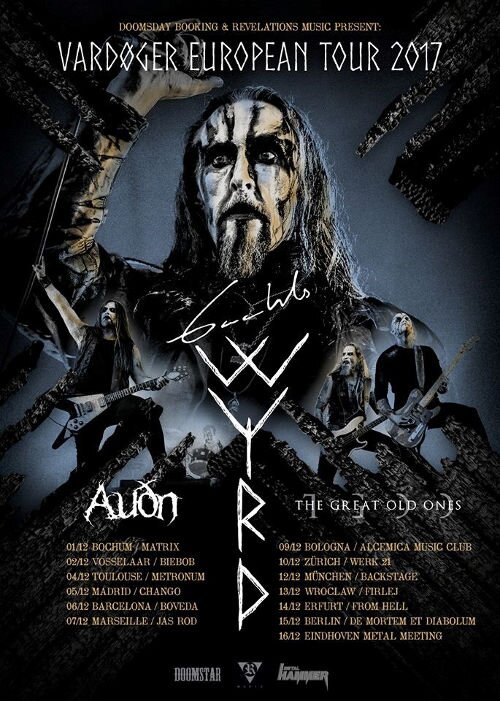 AUÐN + GAAHLS WYRD + THE GREAT OLD ONES
01 Dec 17 Bochum (DE) Matrix
02 Dec 17 Vosselaar (BE) Biebob
03 Dec 17 Paris (FR) Petit Bain
04 Dec 17 Toulouse (FR) Metronum
05 Dec 17 Madrid (ES) Chango
06 Dec 17 Barcelona (ES) Boveda
07 Dec 17 Marseille (FR) Jas Rod
08 Dec 17 Milano (IT) Circolo Svolta
09 Dec 17 Bologna (IT) Alcemica Music Club
10 Dec 17 Zürich (CH) Werk 21
12 Dec 17 München (DE) Backstage
13 Dec 17 Wroclaw (PL) Firlej
14 Dec 17 Erfurt (DE) From Hell
AUÐN Festivals
15 Dec 17 Berlin (DE) Columbiahalle (De Mortem Et Diabolum)
16 Dec 17 Eindhoven (NL) Eindhoven Metal Meeting 2017
18 Jan 18 Groningen (NL) Eurosonic Noorderslag
20 Jan 18 København (DK) BETA2300
09 Mar 18 Reykjavík (IS) Gamla Bíó (Oration MMXVIII)
30 Mar 18 Oslo (NO) Inferno Festival 2018
'Farvegir Fyrndar' can be ordered in various formats from the Season of Mist shop
Join AUÐN on their official Facebook page!
View Auðn