BENIGHTED – Brutalive The Sick – December 11, 2014
Posted on December 11, 2014
More information about Brutalive The Sick
BENIGHTED are proud to reveal that their previously announced live album in celebration of the band's 15th anniversary will be entitled 'Brutalive the Sick' and will be released on the 23rd of February, 2015 (one day later in North America).. Pre-sale will begin on December 17th. A teaser clip can be viewed here.
The French brutal death maniacs will add a pro-shot live DVD to the CD as a present to their followers and to honour this special occasion.
BENIGHTED comment: "We are happy to announce that for the celebration of our 15th anniversary our first live album 'Brutalive the Sick' will be out soon. The show was recorded at Sylak Open Air 2014 in France. These 13 tracks represent our unleashed fury on stage whipped up by an amazing crowd. We hope this makes for a suitably brutal and insane birthday gift for all of you!"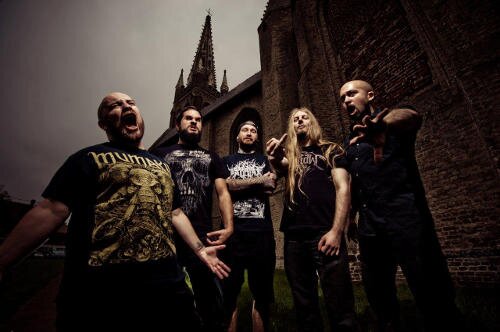 On previous news BENIGHTED have once again completed their line-up. Pierre Arnoux (bass/backing vocals) and Emmanuel Dalle (guitars) have been added as official and permanent members. The current line-up can be seen on a new picture shown above.
The previous BENIGHTED full-length 'Carnivore Sublime' is streaming in full here and also available through the Season of Mist shop. Artwork and tracklist of 'Carnivore Sublime' are shown below.
X2Y
Noise
Experience Your Flesh
Slaughter/Suicide
Spit
Defiled Purity
Jekyll
Collection Of Dead Portraits
Carnivore Sublime
Les Morsures De Cerbère
June And The Laconic Solstice
View Benighted