BENIGHTED – Brutalive The Sick – September 30, 2015
Posted on September 30, 2015
More information about Brutalive The Sick
BENIGHTED have announced a string of European shows in January and February 2016. The French brutalisers will be joining THE BLACK DAHLIA MURDER as main support. A full list of confirmed dates can be viewed below.
BENIGHTED comment: "Europe, are you ready?! We are proud to announce to be main support on the upcoming THE BLACK DAHLIA MURDER Tour 2016! Come and join us for a sick party!"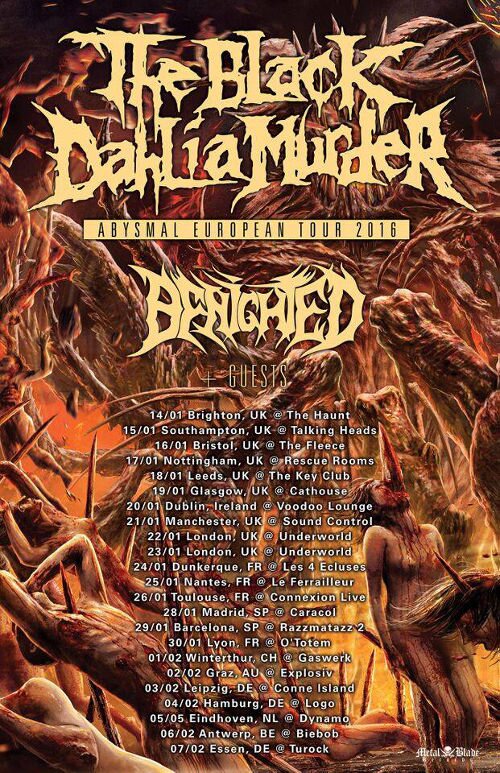 BENIGHTED with THE BLACK DAHLIA MURDER and special guest
14 Jan 16 Brighton (UK) The Haunt
15 Jan 16 Southampton (UK) Talking Heads
16 Jan 16 Bristol (UK) The Fleece
17 Jan 16 Nottingham (UK) Rescue Rooms
18 Jan 16 Leeds (UK) The Key Club
19 Jan 16 Glasgow (UK) The Cathouse
20 Jan 16 Dublin (IE) Voodoo Lounge
21 Jan 16 Manchester (UK) Sound Control
22 Jan 16 London (UK) The Underworld
23 Jan 16 London (UK) The Underworld
24 Jan 16 Dunkirk (FR) 4 Ecluses
25 Jan 16 Nantes (FR) Ferrailleur
26 Jan 16 Toulouse (FR) Connexion Live
28 Jan 16 Madrid (ES) Sala Caracol
29 Jan 16 Barcelona (ES) Sala Razzmatazz
30 Jan 16 Rillieux La Pape (FR) MJC O Totem
01 Feb 16 Winterthur (CH) Gaswerk
02 Feb 16 Graz (AT) Explosiv
03 Feb 16 Leipzig (DE) Conne Island
04 Feb 16 Hamburg (DE) Logo
05 Feb 16 Eindhoven (NL) Dynamo
06 Feb 16 Antwerp (BE) Biebob
07 Feb 16 Essen (DE) Turock
BENIGHTED are touring in support of their latest album 'Carnivore Sublime', which is still available from the Season of Mist shop and streaming in full here.
Artwork and tracklist are shown below.
X2Y
Noise
Let The Blood Spill Between My Broken Teeth
Collapse
Experience Your Flesh
Carnivore Sublime
Prey
Grind Wit
Fritzl
Collection Of Dead Portraits
Slaughter Suicide
Slut
Asylum Cave
Join BENIGHTED on Facebook!
View Benighted