BENIGHTED – Necrobreed – February 10, 2017
Posted on February 10, 2017
More information about Necrobreed
BENIGHTED will kick off their massive French tour at L'Ampérage in Grenoble tonight in support of their forthcoming album 'Necrobreed'. The brutal death extremists will continue to wreck havoc in their native homeland throughout February and March with a final show at the MJC in Limours on April 1st.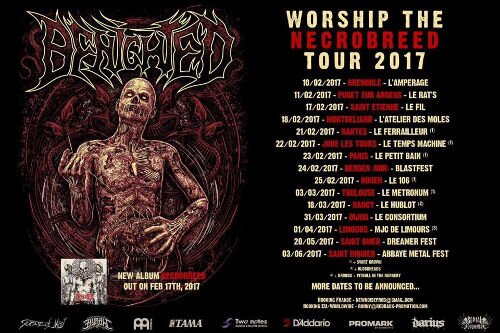 On previous news, BENIGHTED have added a European headlining tour joined by label mates WORMED as well as UNFATHOMABLE RUINATION and OMOPHAGIA. For a complete list of confirmed shows, please see below.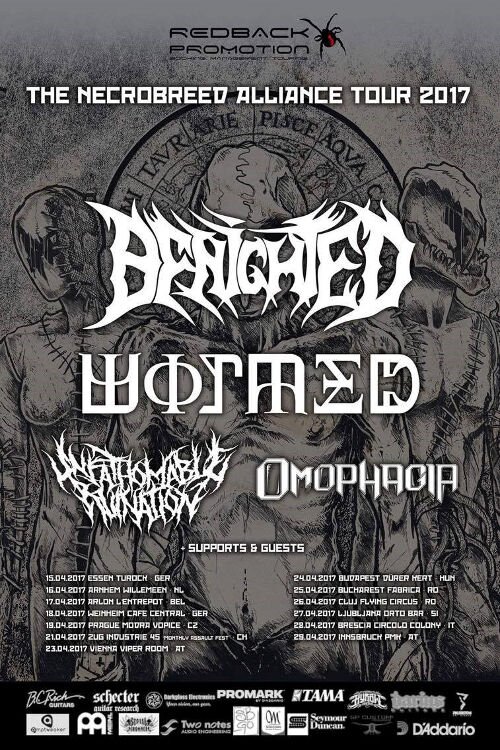 10 Feb 17 Grenoble (FR) L'Ampérage
11 Feb 17 Puget-Sur-Argens (FR) Le Rat's
17 Feb 17 Saint Étienne (FR) Le FIL
18 Feb 17 Montbeliard (FR) L'atelier des miles
21 Feb 17 Nantes (FR) Le Ferailleur
22 Feb 17 Joue Les Tours (FR) Le Temps Machine
23 Feb 17 Paris (FR) Le Petit Bain
25 Feb 17 Rouen (FR) Le 106
03 Mar 17 Toulouse (FR) Le Metronum
18 Mar 17 Nancy (FR) Le Hublot
31 Mar 17 Dijon (FR) Le Consortium
01 Apr 17 Limours (FR) MJC
BENIGHTED + WORMED
15 Apr 17 Essen (DE) Turock
16 Apr 17 Arnhem (NL) Willemeen
17 Apr 17 Arlon (BE) L'entrepot
18 Apr 17 Weinheim (DE) Cafe Central
19 Apr 17 Praha (CZ) Modrá Vopice
21 Apr 17 Zug (CH) Industrie 45
23 Apr 17 Vienna (AT) Viper Room
24 Apr 17 Budapest (HU) Dürer Kert
25 Apr 17 Bucharest (RO) Fabrica
26 Apr 17 Cluj-Napoca (RO) Flying Circus
27 Apr 17 Ljubljana (SI) Orto Bar
28 Apr 17 Brescia (IT) Circolo Colony
29 Apr 17 Innsbruck (AT) PMK
BENIGHTED
11 May 17 Horní Libchava (CZ) Zámek Horní Libchava
13 May 17 Zamek (CZ) Nice To Eat You Fest 2017
20 May 17 Saint-Omer (FR) Dreamer Fest 2017
03 Jun 17 Saint-Riquier (FR) Abbaye Metal Fest 2017
06 Jul 17 Viveiro (ES) Resurrection Festival 2017 (Exact date TBA)
29 Jul 17 Steenwijk (NL) Stonehenge Festival 2017
24 Aug 17 Spital Am Semmering (AT) Kaltenbach Open Air Festival 2017
BENIGHTED will be touring in support of their highly anticipated forthcoming album 'Necrobreed', which will hit the stores on February 17th. Artwork and track-list can be viewed below.
Hush Little Baby
Reptilian
Psychosilencer
Forgive Me Father
Leatherface
Der Doppelgaenger
Necrobreed
Monsters Make Monsters
Cum With Disgust
Versipellis
Reeks Of Darkened Zoopsia
Mass Grave
'Necrobreed' can still be ordered in various formats from the Season of Mist shop.
Join BENIGHTED on their official Facebook page!
View Benighted