BENIGHTED – Necrobreed – June 5, 2018
Posted on June 5, 2018
More information about Necrobreed
BENIGHTED have finished the recordings of their anniversary EP, which will be released later this year by Season of Mist. The EP will be the follow up of the highly successful album 'Necrobreed' . Read more about the upcoming release below.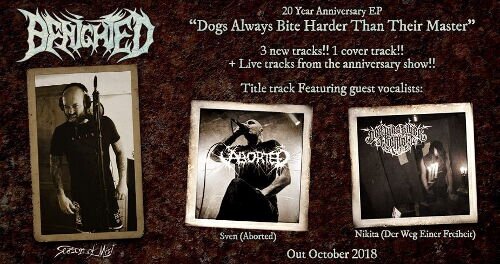 The French death grind extremists recorded "Dogs Always Bite Harder Than Their Master" once again in Germany's Kohlekeller Studio. Not only will the EP contain three brand new tracks, but also live footage that was recorded during their Anniversary show in Lyon last month. The band invited special guests Sven de Caluwé (ABORTED) and Nikita Kamprad (DER WEG EINER FREIHEIT) to lay down their vocals on one of the new offerings!
Vocalist Julien comments: "Benighted just finished recording his Anniversary EP 'Dogs Always Bite Harder Than Their Master' at Kohlekeller Studio! It will contain 3 new devastating tracks, 1 cover and some live tracks from the Anniversary show in Lyon! One of the tracks, feature two great vocalists: Sven from Aborted and Nikita from Der Weg Einer Freiheit. The EP will be available in very special bundles, more news about that soon!"
BENIGHTED have previously announced more dates for the "Hell over Europe II" tour with headliners ABORTED and CRYPTOPSY as well as opening act CYTOTOXIN in what promises to be the ultimate death metal package of the season. See the full list of tour dates below.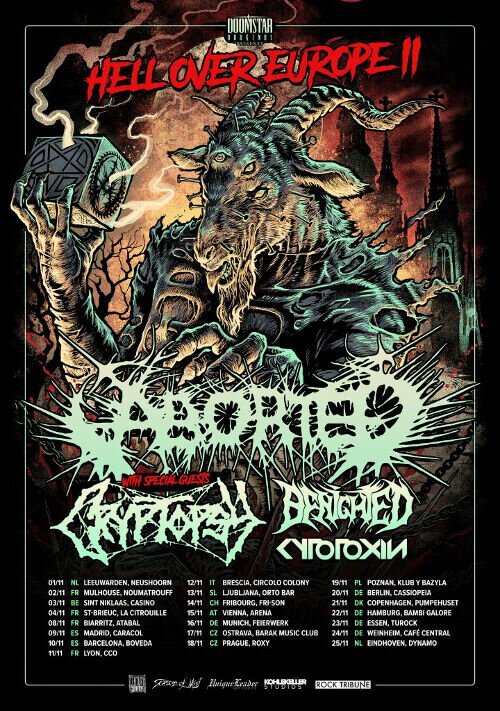 BENIGHTED festival dates
23 Jun 18 Clisson (FR) Hellfest
20 Jul 18 Trutnov (CZ) Obscene Extreme Fest
26 Jul 18 Kansas City, MI (US) Riot Room
27 Jul 18 Chicago (US) Durty Nellie's (Domination Fest 5)
28 Jul 18 St. Louis, MI (US) Fubar
29 Jul 18 Peoria, IL (US) The Rail II
03 Aug 18 Saint-Maurice-De-Gourdans (FR) Sylak Open Air
10 Aug 18 Schlotheim (DE) Party San Metal Open Air
BENIGHTED – Hell over Europe II + ABORTED + CRYPTOPSY + CYTOTOXIN
01 Nov 18 Leeuwarden (NL) Neushoorn
02 Nov 18 Mulhouse (FR) Noumatrouff
03 Nov 18 Sint Niklaas (BE) Casino
04 Nov 18 Saint-Brieuc (FR) La Citrouille
05 Nov 18 Paris (FR) Petit Bain
07 Nov 18 Nantes (FR) Le Ferrailieur
08 Nov 18 Biarritz (FR) Atabal
09 Nov 18 Madrid (ES) Caracol
10 Nov 18 Barcelona (ES) Boveda
11 Nov 18 Lyon (FR) CCO
12 Nov 18 Brescia (IT) Circolo Colony
13 Nov 18 Ljubljana (SL) Orto Bar
14 Nov 18 Fribourg (CH) Fri-Son
15 Nov 18 Wien (AT) Arena
16 Nov 18 München (DE) Feierwerk
17 Nov 18 Uherske Hradiste (CZ) Klub Mir
18 Nov 18 Praha (CZ) Futurum
19 Nov 18 Poznan (PL) Klub Y Bazyla
20 Nov 18 Berlin (DE) Cassiopeia
21 Nov 18 København (DK) Pumpehuset
22 Nov 18 Hamburg (DE) Bambi Galore
23 Nov 18 Essen (DE) Turock
24 Nov 18 Weinheim (DE) Café Central
25 Nov 18 Eindhoven (NL) Dynamo
BENIGHTED will be touring in support of their previously released record 'Necrobreed'. The album can still be ordered in various formats from the Season of Mist shop.
Join BENIGHTED on their official Facebook page.
View Benighted