BEYOND CREATION – Earthborn Evolution – March 19, 2015
Posted on March 19, 2015
More information about Earthborn Evolution
BEYOND CREATION have published a guitar play-through clip for the track "Elusive Reverence", taken from their current album 'Earthbound Evolution', which is available at the Season of Mist shop. The video can be viewed here. The technical death metal innovators have also teased additional forthcoming play-through clips at this link.
BEYOND CREATION have recently announced US tour dates, which can be found below.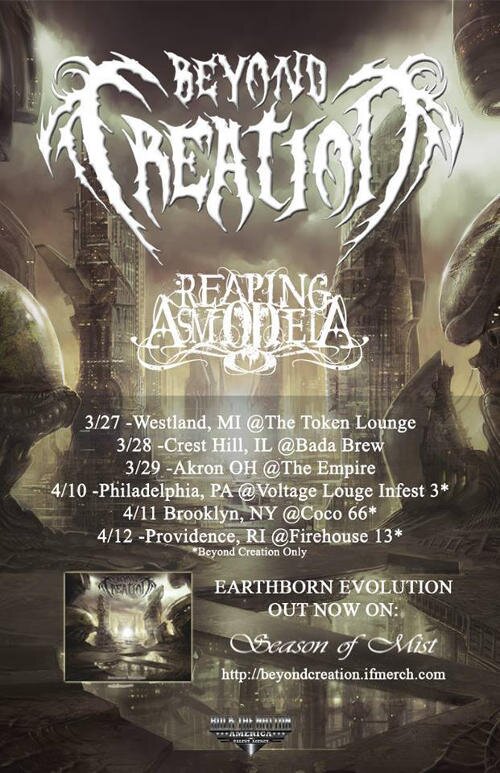 27 Mar 15 Westland, MI (US) Token Lounge (+Reaping Asmodeia)
28 Mar 15 Crest Hill, IL (US) Bada Brew (+Reaping Asmodeia)
29 Mar 15 Akron, OH (US) Empire Concert Club (+Reaping Asmodeia)
10 Apr 15 Philadelphia, PA (US) Infest (+Cannabis Corpse)
11 Apr 15 Brooklyn, NY (US) Coco 66
12 Apr 15 Providence, RI (US) Firehouse 13
BEYOND CREATION are touring in support of their critically-acclaimed new album 'Earthborn Evolution', which is streaming in full here and can be ordered in various CD and LP formats here.
Elusive Reverence
Sous La Lueur De L'empereur
Earthborn Evolution
The Great Revelation
Neurotical Transmissions
Abstrait Dialog
The Axiom
L'exorde
Theatrical Delirium
Fundamental Process
View Beyond Creation