BEYOND CREATION – Earthborn Evolution – May 17, 2017
Posted on May 17, 2017
More information about Earthborn Evolution
BEYOND CREATION have announced a string of European dates for this summer in support of their latest release 'Earthborn Evolution'. The Canadian masters of progressive technical death metal will be supported by Swiss brothers in spirit, VIRVUM.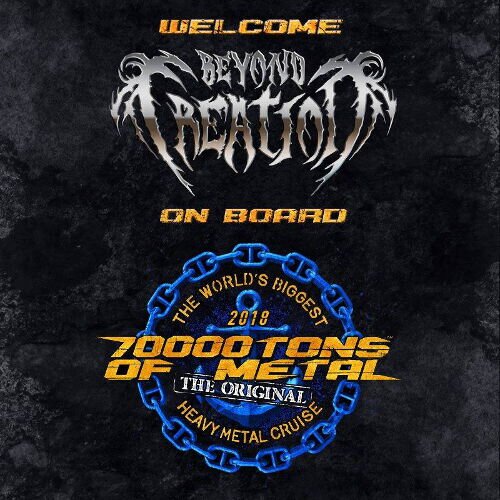 The tour kicks off with a show at the prestigious Hellfest in Clisson France on June 18th and continues through 11 countries on the continent before its grand finale at the UK Tech Fest at the Newark Showground in Winthorpe on the 9th of July.
BEYOND CREATION
18 Jun 17 Clisson (FR) Hellfest
BEYOND CREATION + Virvum
20 Jun 17 Aarau (CH) Kiff
21 Jun 17 Bologna (IT) Alchemica Music Club
22 Jun 17 Ljubljana (SI) Orto Bar
24 Jun 17 Tuzla (BA) Club Palma
25 Jun 17 Sofia (BG) Live & Loud
26 Jun 17 Cluj (RO) Napoca The Shelter
27 Jun 17 Kosice (SK) Colloseum
28 Jun 17 Budapest (HU) Dürer Kert
29 Jun 17 Wien (AT) Viper Room
30 Jun 17 München (DE) Feierwerk
02 Jul 17 Utrecht (NL) dB's
BEYOND CREATION
07 Jul 17 Dubai (AE) The Music Room
09 Jul 17 Winthorpe (UK) Newark Showground (UK Tech Fest 2017)
BEYOND CREATION are still touring in support of their sophomore full-length, 'Earthborn Evolution'. Artwork and track list van be viewed below.
Elusive Reverence
Sous La Lueur De L'empereur
Earthborn Evolution
The Great Revelation
Neurotical Transmissions
Abstrait Dialog
The Axiom
L'exorde
Theatrical Delirium
Fundamental Process
'Earthborn Evolution' can still be ordered in various formats from the Season of Mist shop.
Join BEYOND CREATION on their official Facebook page!
View Beyond Creation