BEYOND CREATION – Algorythm – September 18, 2018
Posted on September 18, 2018
More information about Algorythm
BEYOND CREATION have embarked on their extensive North American tour this week. The "Diluvium North American Tour" kicks off tonight in Oakland, and sees BEYOND CREATION joining forces with OBSCURA, ARCHSPIRE, and more. A full list of confirmed tour dates can be found below.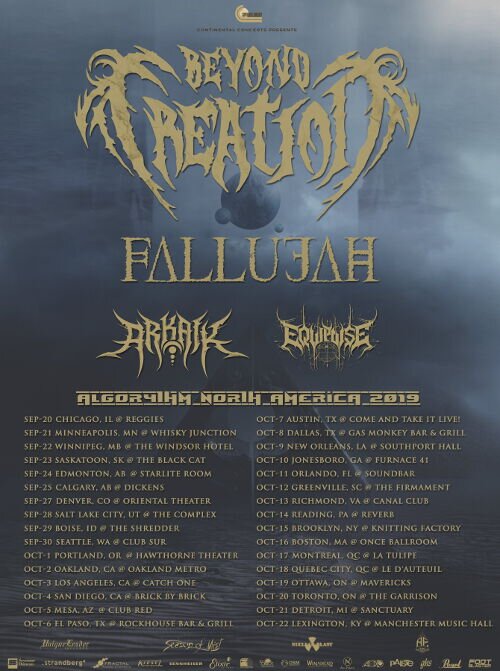 BEYOND CREATION with OBSCURA, ARCHSPIRE, INFERI and EXIST
19 Sep 18 Salt Lake City, UT (US) Metro Music Hall
20 Sep 18 Denver, CO (US) Marquis Theatre
21 Sep 18 Kansas City, MO (US) Riot Room
22 Sep 18 Joliet, IL (US) The Forge
23 Sep 18 Toronto, ON (CAN) Velvet Underground
24 Sep 18 Quebec City, QC (CAN) Salle Multi
25 Sep 18 Worcester, MA (US) Palladium
26 Sep 18 Brooklyn, NY (US) Knitting Factory
26 Sep 18 Philadelphia, PA (US) Voltage Lounge
29 Sep 18 Atlanta, GA (US) The Masquerade
30 Sep 18 Orlando, FL (US) The Haven
01 Oct 18 New Orleans, LA (US) Southport Hall
02 Oct 18 Houston, TX (US) Scout Bar
03 Oct 18 Austin, TX (US) Come and Take it Live
04 Oct 18 Dallas, TX (US) Gas Monkey Gas Bar & Grill
06 Oct 18 Mesa, AZ (US) Club Red
07 Oct 18 Los Angeles, CA (US) 1720
BEYOND CREATION are touring in support of their forthcoming new album, 'Algorythm'. On their long awaited new album the Montreal quartet take yet another step forward. Incredibly intricate and subtle guitar and bass work weave through a fierce percussive onslaught in a dizzying display of mastery and instrumental interplay. BEYOND CREATION are at the apex of modern death metal, and 'Algorythm' is a study in the forward motion of intelligent, progressive extremity.
The technical death metallers will be touring in support of their upcoming album. The artwork and track list for 'Algorythm' can be found below:
Disenthrall
Entre Suffrage Et Mirage
Surface's Echoes
Ethereal Kingdom
Algorythm
À Travers Le Temps Et L'Oubli
In Adversity
The Inversion
Binomial Structures
The Afterlife
'Algorythm' is available for pre-ordering in the Season of Mist shop.
Join BEYOND CREATION on their official Facebook page.
View Beyond Creation