BEYOND CREATION – Algorythm – February 6, 2019
Posted on February 6, 2019
More information about Algorythm
Canadian tech death metallers BEYOND CREATION have been nominated for a 2018 JUNO Award along with label-mates KEN MODE. Read more on the awards and nominees below.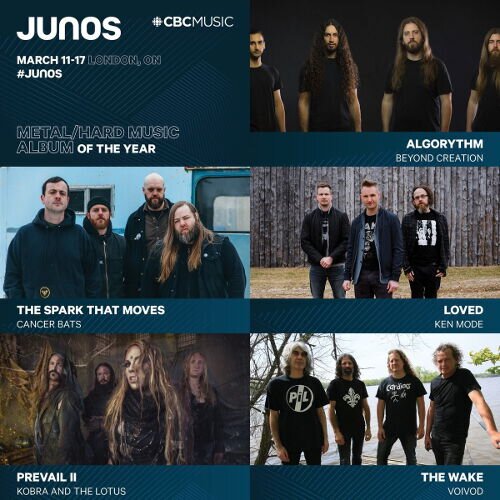 The bands will be vying for the title of Metal/Hard Rock Album of the Year. A full list of nominees in the category are as follows:
BEYOND CREATION – Algorythm
KEN MODE – Loved
CANCERBATS – The Spark That Moves
KOBRA AND THE LOTUS – Prevail II
VOIVOD – The Wake
The full list of JUNO categories and nominees can be found HERE.
In addition to the JUNO nomination, BEYOND CREATION will be performing in Australia and New Zealand this spring. From May 9 until May 12, they will be supporting label-mates NE OBLIVISCARIS in Australia. Then, on May 14 and 15, they will headline two shows in New Zealand. The full itinerary can be found below.
NE OBLIVISCARIS with BEYOND CREATION, CALIGULA'S HORSE, ALLEGAEON and RIVERS OF NIHIL
05/09: Adelaide (AU) @ Lion Arts Factory
05/10: Melbourne (AU) @ 170 Russell
05/11: Sydney (AU) @ Manning Bar
05/12: Brisbane (AU) @ The Triffio
BEYOND CREATION with RIVERS OF NIHIL
05/14: Wellington (NZ) @ Valhalla
05/19: Auckland (NZ) @ Whammy
BEYOND CREATION has been nominated for their record 'Algorythm,' which is still available in the Season of Mist Shop.
Join BEYOND CREATION on their official Facebook page.
View Beyond Creation