BEYOND CREATION – Algorythm – March 21, 2019
Posted on March 21, 2019
More information about Algorythm
JUNO-nominated tech-death metallers BEYOND CREATION have announced a Latin America tour this spring along with EXHUMED. The trek will kick off on April 3 in Monterrey, Mexico and will conclude on April 21 in Rio De Janeiro, Brazil. A full list of dates can be found below.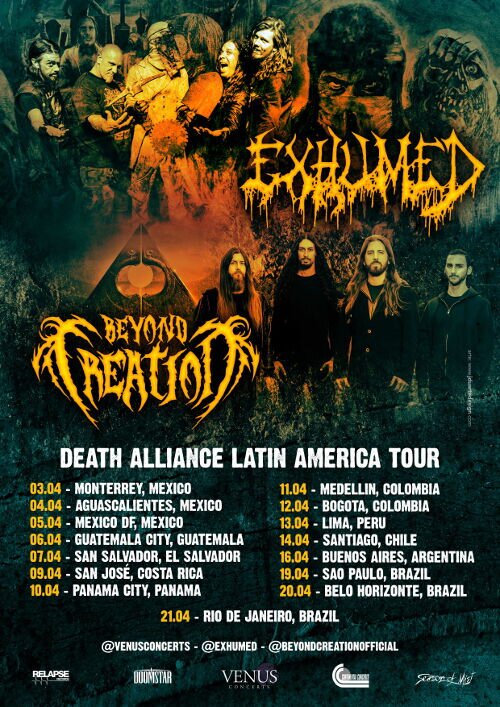 BEYOND CREATION Latin America Tour (w/ EXHUMED)
04/03: Monterrey, Mexico @ Nandas Barrio Antiguo
04/04: Aguascalientes, Mexico @ RockSí Ags
04/05: Mexico City, Mexico @ Foro Indie Rocks
04/06: Guatemala City, Guatemala @ Rock Vuh
04/07: San Salvador, El Salvador @ Buhos
04/09: San José, Costa Rica @ Peppers Chill Out
04/10: Panama City, Panama @ Hangar 18
04/11: Medellin, Colombia @ Sala Bombay
04/12: Bogota, Colombia @ Ace Of Spades Club
04/13: Lima, Peru @ C.C Festiva
04/14: Santiago, Chile @ Blondie
04/16: Buenos Aires, Argentina @ Uniclub
04/19: São Paulo, Brazil @ Carioca Club Pinheiros
04/20: Belo Horizonte, Brazil @ Mister Rock BH
04/21: Rio de Janeiro, Brazil @ Teatro Odisséia
The band will be touring in support of their JUNO nominated release, 'Algorythm.' The record is still available in the Season of Mist shop.
Join BEYOND CREATION on their official Facebook page.
View Beyond Creation