BEYOND CREATION – Algorythm – December 5, 2019
Posted on December 5, 2019
More information about Algorythm
BEYOND CREATION are now announcing new European tour dates together with the mighty death metal formation DECAPITATED! The full list of confirmed shows can be found below.
The rampage will kick off at the Lido venue in Berlin on the 6th of March and continues throughout 10 more countries in the weeks after. Support is taken care of by LORNA SHORE and VISCERA.
In celebration of the tour, drummer Philippe "Tyrant" Boucher has shared an elaborate drum play-through for the track "Surface's Echoes". The video can be seen HERE!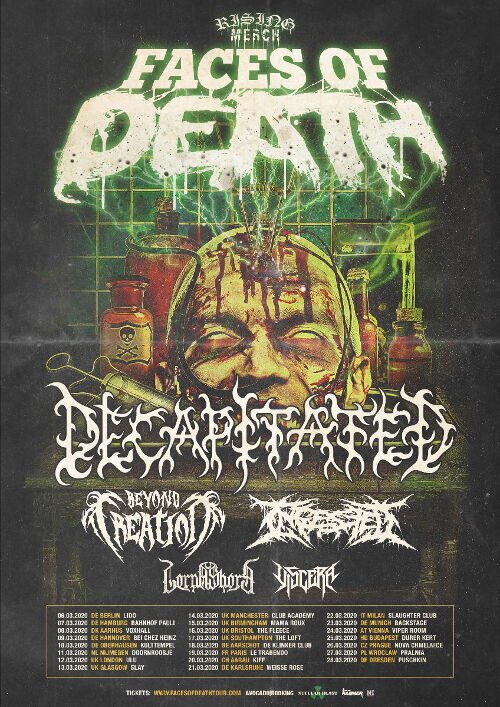 BEYOND CREATION + DECAPITATED + NGESTED + LORNA SHORE + VISCERA
06 Mar 20 Berlin (DE) Lido
07 Mar 20 Hamburg (DE) Bahnhof Pauli
08 Mar 20 Aarhus (DK) Voxhall
09 Mar 20 Hannover (DE) Bei Chéz Heinz
10 Mar 20 Oberhausen (DE) Kulttempel
11 Mar 20 Nijmegen (NL) Doornroosje
12 Mar 20 London (UK) ULU
13 Mar 20 Glasgow (UK) Slay
14 Mar 20 Manchester (UK) Club Academy
15 Mar 20 Birmingham (UK) Mama Roux's
16 Mar 20 Bristol (UK) The Fleece
17 Mar 20 Southampton (UK) The Loft
18 Mar 20 Aarschot (BE) De Klinker Club
19 Mar 20 Paris (FR) La Trabendo
20 Mar 20 Aarau (CH) KiFF
21 Mar 20 Karlsruhe (DE) Weisse Rose
22 Mar 20 Milan (IT) Slaughter Club
23 Mar 20 Munich (De) Backstage
24 Mar 20 Vienna (AT) Viper Room
25 Mar 20 Budapest (HU) Dürer Kert
26 Mar 20 Prague (CZ) Nova Chmelnice
27 Mar 20 Wroclaw (PL) Pralnia
28 Mar 20 Dresden (DE) Puschkina
BEYOND CREATION will be touring in support of their latest release 'Algorythm', which can still be found in the Season of Mist shop.
Join BEYOND CREATION on their official Facebook page.
View Beyond Creation