News update : BLACK COBRA – April 23, 2015
Posted on April 23, 2015
BLACK COBRA will kick of their European tour in the UK at London's Desertfest tomorrow. The hardcore-fuelled sludge metal act will be joined by ACID KING for the first part of their road rage until Innsbruck, Austria on May 9th and then continues without the Californians for six more shows. A full list of concerts can be viewed below.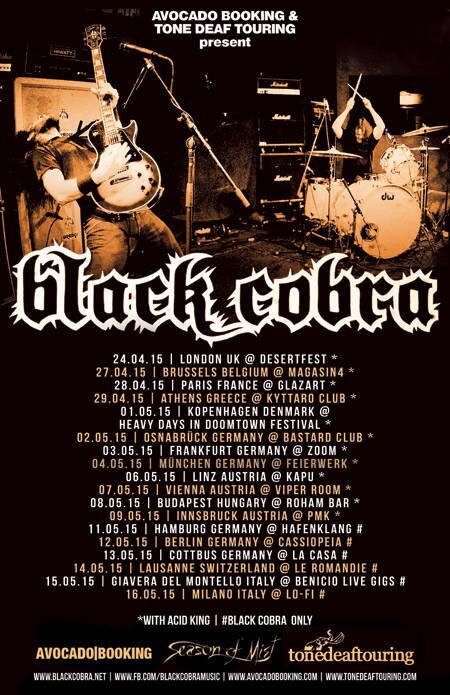 24 Apr 15 London (UK) Desertfest
27 Apr 15 Brussels (BE) Magasin4 (+Acid King)
28 Apr 15 Paris (FR) Glazart (+Acid King)
29 Apr 15 Athens (GR) Kyttaro Club (+Acid King)
01 May 15 Copenhagen (DK) Heavy Days in Doomtown Festival (+Acid King)
02 May 15 Osnabrück (DE) Bastard Club (+Acid King)
03 May 15 Frankfurt (DE) Zoom (+Acid King)
04 May 15 München (DE) Feierwerk (+Acid King)
06 May 15 Linz (AT) Kapu (+Acid King)
07 May 15 Wien (AT) Viper Room (+Acid King)
08 May 15 Budapest (HU) Roham Bar (+Acid King)
09 May 15 Innsbruck (AT) PMK (+Acid King)
11 May 15 Hamburg (DE) Hafenklang
12 May 15 Berlin (DE) Cassiopeia
13 May 15 Cottbus (DE) La Casa
14 May 15 Lausanne (CH) Le Romandie
15 May 15 Giavera del Montello (IT) Benicio Live Gigs
16 May 15 Milano (IT) Lo-Fi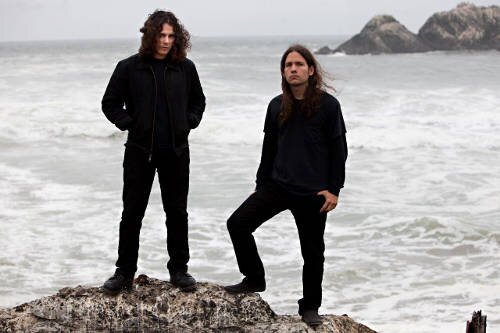 Regarding their new album and signing, BLACK COBRA commented: "We are very excited to be on Season of Mist with such a great group of people and an amazing roster of diverse artists. We will be entering the studio in the next couple months to record our new album. We are super stoked on the new tracks and cannot wait for you guys to hear them."
BLACK COBRA were formed in 2001 by guitarist and vocalist Jason Landrian (ex-CAVITY), who was joined by Rafael Martinez (ex-ACID KING, -16, GAMMERA). The duo exploded from the underground with their scathing take on hardcore-fuelled sludge metal. After the release of 4 well-received full lengths, BLACK COBRA have levelled venues across the United States and internationally alongside such cult acts as HIGH ON FIRE, WEEDEATER, PELICAN, THE SWORD, YOB, SLEEP, TORCHE, KYUSS LIVES and more. Join BLACK COBRA on their official Facebook page, on Twitter, as well as on Instagram.
View Black Cobra