CANNABIS CORPSE TOUR
Posted on March 26, 2013
Death metal powerhouse CANNABIS CORPSE will soon hit US roads. The "Hell in July" tour will see the band playing alongside SIX FEET UNDER and DECREPIT BIRTH. The trek will begin on July 10th in Houston, TX, and end on July 27th in Atlanta, GA. A full list of dates can be found below.
The Richmond, VA based band recently signed on Season of Mist and are currently recording their forthcoming album.
CANNABIS CORPSE is the project of MUNICIPAL WASTE bassist Phil "LandPhil" Hall and his brother Josh "Hallhammer" Hall. The band, rounded out by guitarist Brent Purgason (aka "Pustulus Maximus" of GWAR), have previously released three well-received full-lengths, and toured the world over alongside THE BLACK DAHLIA MURDER, REVOCATION, HATE ETERNAL, SKELETONWITCH, and many others.
Hell In July Tour Dates
July 10 Houston, TX @ Fitzgerald's
July 11 Austin, TX @ Dirty Dog
July 12 Oklahoma City, OK @ Chameleon Room
July 13 Dallas, TX @ Trees
July 14 Santa Fe, NM @ Sol
July 15 Flagstaff, AZ @ Orpheum Theater
July 16 W. Hollywood, CA @ The Whisky
July 17 San Francisco, CA @ DNA Lounge
July 19 Seattle, WA @ Studio Seven
July 20 Portland, OR @ Hawthorne Theatre
July 21 Salt Lake City, UT @ In The Venue
July 22 Denver, CO @ Marquis Theater
July 23 Lawrence, KS @ Granada Theater
July 24 St Louis, MO @ Firebird
July 25 Fayetteville, AR @ Rogue
July 26 Nashville, TN @ Exit/In
July 27 Atlanta, GA @ Masquerade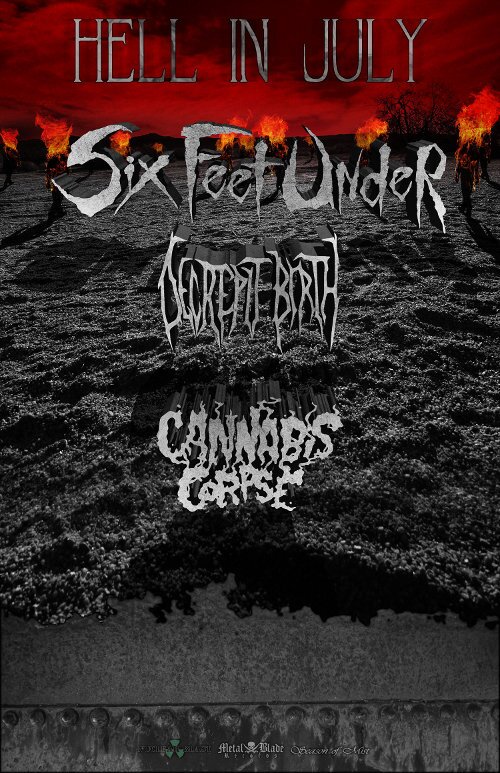 View Cannabis Corpse