CANNABIS CORPSE – Left Hand Pass – July 4, 2019
Posted on July 4, 2019
More information about Left Hand Pass
Stoner death metallers CANNABIS CORPSE have announced a new run of live performances in North America this August. A full list of tour dates can be found below.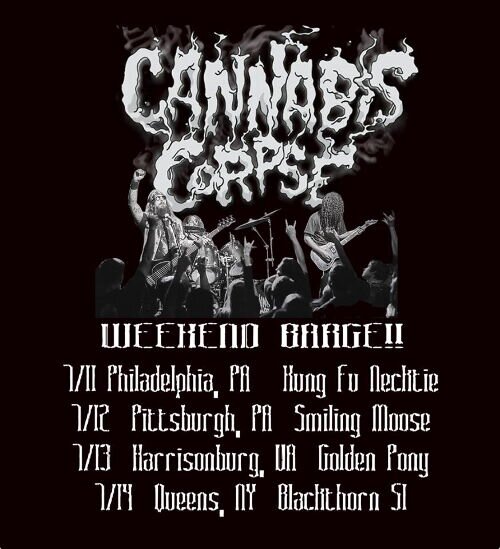 CANNABIS CORPSE Headlining Shows:
07/11: Philadelphia, PA @ Kung Fu Necktie
07/12: Pittsburgh, PA @ Smiling Moose
07/13: Harrisonburg, VA @ Golden Pony
07/14: Queens, NY @ Blackthorn 51
08/01: Toronto, ON @ The Velvet Underground
08/02: Ottawa, ON @ Mavericks
08/03: Manchester, NH @ Jewel Nightclub
08/04: Providence, RI @ Alchemy
CANNABIS CORPSE's last full-length album, 'The Left Hand Pass,' was released in 2017 via Season of Mist and is still available in the shop.
Join CANNABIS CORPSE on their official Facebook page.
View Cannabis Corpse