CANNABIS CORPSE – Nug So Vile – January 8, 2020
Posted on January 8, 2020
More information about Nug So Vile
Stoner death metal icons CANNABIS CORPSE have kicked off their previously announced European tour together with label mates WITHERED.
The rampage started early January and continues to wreck havoc through 13 more countries until a final curtain at the Temple of Boom in Leeds (UK). A full list of confirmed dates can be found below.
Phil Hall comments on the announcement: "CANNABIS CORPSE is going to head back over to Europe early in 2020! Roll up a fatty and check out the dates!"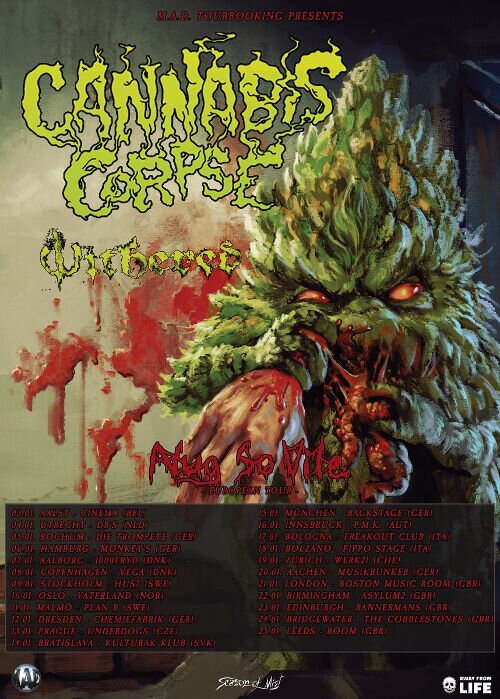 CANNABIS CORPSE + WITHERED
08 Jan 20 Copenhagen (DK) Vega
09 Jan 20 Stockholm (SE) Hus7
10 Jan 20 Oslo (NO) Vaterland
11 Jan 20 Malmo (SE) Plan B
12 Jan 20 Dresden (DE) Chemiefabrik
13 Jan 20 Prague (CZ) Underdogs
14 Jan 20 Bratilava (SK) Kulturak Klub
15 Jan 20 Munchen (DE) Backstage
16 Jan 20 Innsbruck (AT) P.M.K.
17 Jan 20 Bologna (IT) Freakout Club
18 Jan 20 Bolzano (IT) Pippo Stage
19 Jan 20 Zurich (CH) Werk21
20 Jan 20 Aachen (DE) Musikbunker
21 Jan 20 London (UK) Boston Music Room
22 Jan 20 Birmingham (UK) Asylum2
23 Jan 20 Edinburgh (UK) Bannerman's
24 Jan 20 Bridgewater (UK) The Cobblestones
25 Jan 20 Leeds (UK) Temple of Boom
CANNABIS CORPSE will be touring in support of their latest album 'Nug So Vile', which is available in the Season of Mist shop.
Join CANNABIS CORPSE on their official Facebook page.
View Cannabis Corpse