CARACH ANGREN – This Is No Fairytale – November 17, 2015
Posted on November 17, 2015
More information about This Is No Fairytale
CARACH ANGREN have announced a new North American tour sponsored by Metal Injection as direct support to FLESHGOD APOCALYPSE, which will also be joined by ABIGAIL WILLIAMS in February 2016. A full list of confirmed tour dates can be found below.
CARACH ANGREN comment regarding this tour: "We are very thrilled to return our horror to the USA and Canada! After bringing Death to the Phantom Ship in the Caribbean we will set foot on mainland for the entire month of February. Our first visitation last year was met with your incredible support and now we will finally make 'This Is No Fairytale' come alive in a place near you, embedded in well-known chapters from our previous horror stories."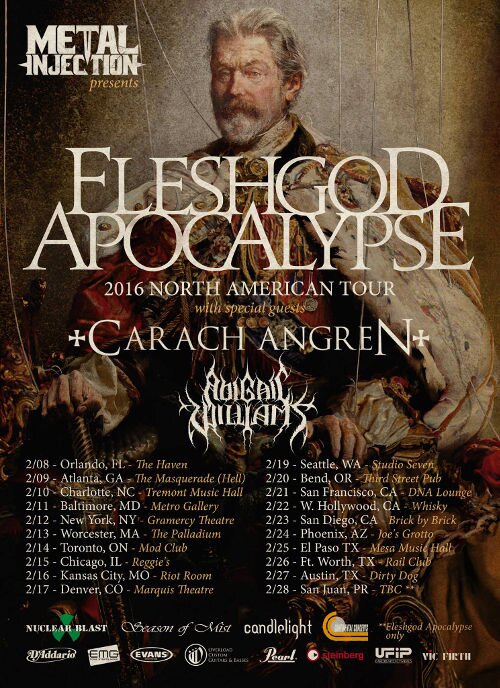 CARACH ANGREN
04 Feb 16 Ft. Lauderdale, FL (US) 70000 Tons of Metal Cruise
CARACH ANGREN + FLESHGOD APOCALYPSE + ABIGAIL WILLIAMS
08 Feb 16 Orlando, FL (US) The Haven
09 Feb 16 Atlanta, GA (US) The Masquerade (Hell)
10 Feb 16 Charlotte, NC (US) Tremont Music Hall
11 Feb 16 Baltimore, MD (US) Metro Gallery
12 Feb 16 New York, NY (US) Gramercy Theatre
13 Feb 16 Worcester, MA (US) The Palladium
14 Feb 16 Toronto, ON (CA) Mod Club
15 Feb 16 Chicago, IL (US) Reggie's
16 Feb 16 Kansas City, MO (US) Riot Room
17 Feb 16 Denver, CO (US) Marquis Theatre
19 Feb 16 Seattle, WA (US) Studio Seven
20 Feb 16 Bend, OR (US) Third Street Pub
21 Feb 16 San Francisco, CA (US) DNA Lounge
22 Feb 16 West Hollywood, CA (US) Whisky
23 Feb 16 San Diego, CA (US) Brick by Brick
24 Feb 16 Phoenix, AZ (US) Joe's Grotto
25 Feb 16 El Paso TX (US) Mesa Music Hall
26 Feb 16 Ft. Worth, TX (UA) Rail Club
27 Feb 16 Austin, TX (US) Dirty Dog
CARACH ANGREN will be touring in support of their latest horror concept album 'This Is No Fairytale', which was mixed by Peter Tägtgren (HYPOCRISY, PAIN) and mastered by Jonas Kjellgren and can still be ordered directly in various formats from the Season of Mist shop. The album is also streaming in full on Bandcamp and on the Season of Mist Youtube channel, which can be subscribed to here.
Artwork and tracklist of 'This Is No Fairytale' can be viewed below.
Once upon a Time...
There's No Place Like Home
When Crows Tick On Windows
Two Flies Flew Into A Black Sugar Cobweb
Dreaming Of A Nightmare In Eden
Possessed By A Craft Of Witchery
Killed and Served By The Devil
The Witch Perished In Flames
Tragedy Ever After
Follow CARACH ANGREN on Facebook!
View Carach Angren