CARACH ANGREN are premiering the third amazing track of their forthcoming new album, 'Dance and Laugh amongst the Rotten' in the shape of a stunning animated video with lyrics, which can be viewed below.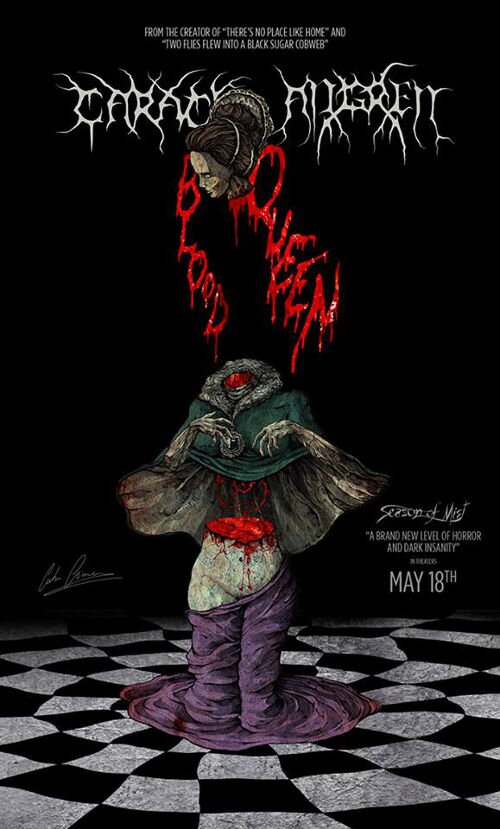 The animated video for the song "Blood Queen" has been created by renowned Romanian artist, Costin Chioreanu and is now streaming via the Season of Mist video channel.
CARACH ANGREN comment: "We are extremely proud to present you the horror that is 'Blood Queen'. This cruel and sad tale surrounding her fate that we have brought alive in an intense musical is now wrenching your gut through the incredibly imagery created by Costin Chioreanu. He has given our dark vision a more than fitting frame. This clip is more than just another 'lyric video' but an artistic merger of song and image. We are proud that our work of passion also led to Costin really outdoing himself once again."
CARACH ANGREN have previously revealed the cover art by Costin Chioreanu and track-list of 'Dance and Laugh amongst the Rotten', which can both be viewed below.
Opening
Charlie
Bloodqueen
Charles Francis Coghlan
Song for the Dead
In De Naam Van De Duivel
Pitch Black Box
The Possession Process
Three Times Thunder Strikes
On further news, CARACH ANGREN have just been nominated in the "newcomer" category of the prestigious German Metal Hammer Awards for the 2017 edition. The ceremony will take place at the Kesselhaus in Berlin, Germany on September 15th.
Tickets are available here.
'Dance And Laugh Amongst The Rotten' can now be ordered in various formats from the Season of Mist shop.
Join CARACH ANGREN on their official Facebook page!
View Carach Angren