CARACH ANGREN have announced new live dates in support of their latest release 'Dance And Laugh Amongst The Rotten' this summer. The Dutch horror fanatics are scheduled to perform several festival and headlining shows. See the list of confirmed dates and festival performances below.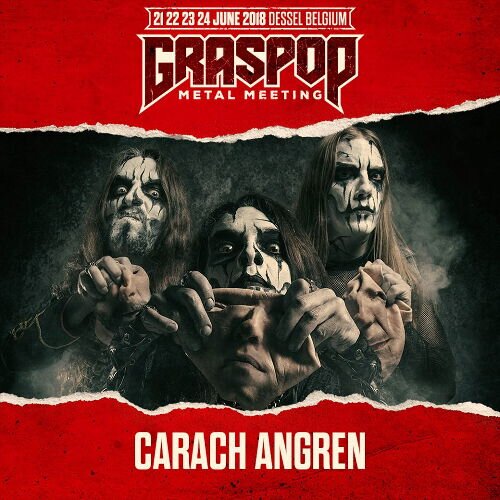 CARACH ANGREN comment: "The coming months we will make you dance and laugh amongst the rotten as we are haunting many festivals across Europe. After an incredible European tour earlier this year, we can't wait to get out there and summon our new stage presence for all of you!"
CARACH ANGREN tour dates
04 May 18 Paola (MT) Sin Fest 2018
09 Jun 18 Würzburg (DE) Skaldenfest
22 Jun 18 Dessel (BE) Graspop Metal Meeting 2018
23 Jun 18 Halden (NO) Tons of Rock 2018
06 Jul 18 Bucarest (RO) Headbangers Meeting 2018
04 Aug 18 Tampere (FI) Festival Saarihelvetti
11 Aug 18 Vagos (PT) Vagos Metal Fest 2018
14 Sep 18 Moscow (RU) Zil Arena
15 Sep 18 Saint Petersburg (RU) Mod Club
21 Sep 18 Athens (GR) Kyttaro Live
22 Sep 18 Thessaloniki (GR) Eight ball Live Stage
Artwork, track-list, and album details of 'Dance And Laugh Amongst The Rotten' can be viewed below.
Opening
Charlie
Bloodqueen
Charles Francis Coghlan
Song for the Dead
In De Naam Van De Duivel
Pitch Black Box
The Possession Process
Three Times Thunder Strikes
'Dance And Laugh Amongst The Rotten' can still be ordered in various formats from the Season of Mist shop
Join CARACH ANGREN on their official Facebook page!
View Carach Angren