News update : CARNATION – April 9, 2018
Posted on April 9, 2018
Belgian extreme death metal unit CARNATION have embarked on their previously announced Brazilian tour and sees the band traveling through the country as main support to PESTILENCE. A full list of confirmed tour dates can be found below.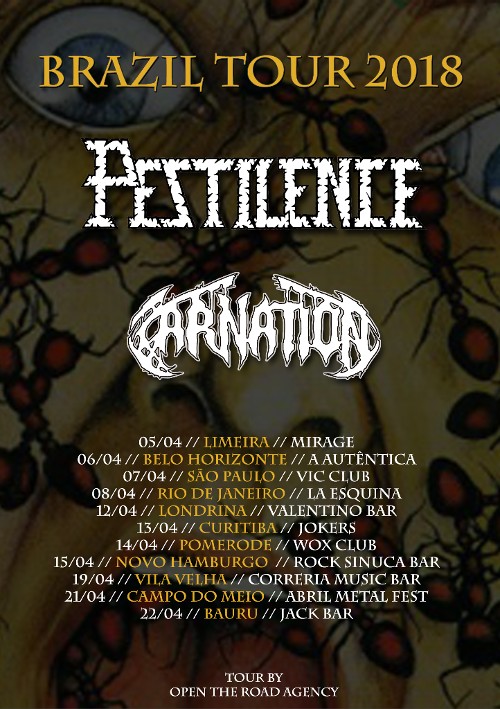 CARNATION + PESTILENCE
12 Apr 18 Londrina (BR) Valentino Bar
13 Apr 18 Curitiba (BR) Jokers
14 Apr 18 Pomerode (BR) Wox Club
15 Apr 18 Novo Hamburgo (BR) Rock Sinuca Bar
19 Apr 18 Vila Velha (BR) Correria Music Bar
21 Apr 18 Campo do Meio (BR) Abril Metal Fest
22 Apr 18 Bauru (BR) Jack Bar
CARNATION shows
18 May 18 Oss (NL) Groene Engel (+Izegrim +Veil of Delusions)
11 Jul 18 Wien (AT) Szene (+Cannibal Corpse)
13 Jul 18 In Flammen Open Air (DE) Exact date TBA
Join CARNATION on their official Facebook page!
View Carnation