CHRISTIAN DEATH – The Root of All Evilution – September 8, 2015
Posted on September 8, 2015
More information about The Root of All Evilution
CHRISTIAN DEATH are streaming the first new track from their forthcoming album 'The Root Of All Evilution', which can be pre-ordered here and has been scheduled for release on vinyl on the 16th of October (November 13th in North America). The US Goth legends have also announced European tour-dates, which can be viewed together with the details of their new album below.
The American Goth legends are premiering the sinister rocker "Illuminazi" as a worldwide exclusive via Sonic Seducer.
In the Garden Of Evilution
This Cross
Tar Black Liquid
Fema Coffins
Illuminazi
We Have Become
Forgiven
Penitence Forevermore
Deliver Us
Secrets Down Below
CHRISTIAN DEATH have already unveiled the artwork for 'The Root Of All Evilution', which can be viewed together with the tracklist below.
On further news, CHRISTIAN DEATH have announced to be headlining the "Hell Nights" tour in Germany with THE OTHER, NIM VIND, and ARGYLE GOOLSBY AND THE ROVING MIDNIGHT. More European shows will follow. All dates can be viewed below.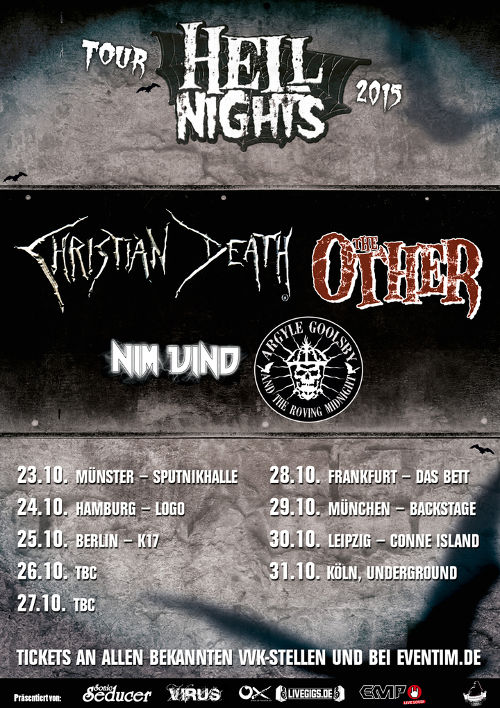 CHRISTIAN DEATH – HELL NIGHTS TOUR 2015 with THE OTHER, NIM VIND, and ARGYLE GOOLSBY AND THE ROVING MIDNIGHT
23 Oct 15 Münster (DE) Sputnikhalle
24 Oct 15 Hamburg (DE) Logo
25 Oct 15 Berlin (DE) K17
27 Oct 15 Stuttgart (DE) Universum
28 Oct 15 Frankfurt (DE) Das Bett
29 Oct 15 München (DE) Backstage
30 Oct 15 Leipzig (DE) Conne Island
31 Oct 15 Köln (DE) Underground
CHRISTIAN DEATH additional European Shows
03 Nov 15 Wien (AT) Viper Room
04 Nov 15 Zürich (CH) Xtra Club
05 Nov 15 Bologna (IT) Lucrezia Rock Club
06 Nov 15 Milan (IT) Blackhole
07 Nov 15 Cervia (IT) Rock Planet
10 Nov 15 Liege (BE) La Zone
13 Nov 15 Winchester (UK) Railway Inn
14 Nov 15 Leeds (UK) The Library Pub
15 Nov 15 Glasgow (UK) Broadcast
18 Nov 15 Bristol (UK) Louisanna
19 Nov 15 London (UK) Hoxton Square Bar & Kitchen
20 Nov 15 Milton Keynes (UK) Crauford Arms
21 Nov 15 Nottingham (UK) Rock City Basement
26 Nov 15 Valencia (ES) 16 Tonelads
27 Nov 15 Barcelona (ES) Salamander 1
28 Nov 15 Madrid (ES) Copernicus
CHRISTIAN DEATH are more than just another band. The legendary American pioneers of dark sounds can rightfully claim to be the incarnation of Gothic music.
After an eight year hiatus following the release of 'American Inquisition' (2007), CHRISTIAN DEATH are finally returning with their highly anticipated next full-length, which carries the title 'The Root Of All Evilution'.
The angry explorers of the sinister side of humanity have released a host of classic albums during their tempestuous and troubled history. Now the time has come to write an new chapter in the Gothic bible with 'The Root Of All Evilution'!
Line-up
Valor Kand: male vocals, guitars, violin, strings, keyboards
Maitri: female vocals, bass guitar, keyboards
Jason Frantz: drums
Join CHRISTIAN DEATH on Facebook.
'The Root Of All Evilution' can be pre-ordered as a vinyl LP in various colours here.
View Christian Death