CLOAK – New Signing – October 24, 2016
Posted on October 24, 2016
Season of Mist are proud to announce the signing of CLOAK. This steeply ascending American dark star will release its debut full-length on the label next year. The quartet is currently recording at Aria Studios in Marietta, Georgia with producer Joey Jones (ROYAL THUNDER, SOUR VEIN). Regarding their signing, the band comments: "The fires of CLOAK burn wildly and we are ready to set this world ablaze one hungry soul at a time. We have been crafting our full length with precision and ferocity for the last year. Over the writing process our capacity to evoke dark energies through the outlet of rock music has grown vastly, culminating into an experience that pulls you in and drags you down into the abyss. This autumn, we begin recording our debut album to be released via Season of Mist in 2017. We invite the listener to join us on a journey through forbidden pathways towards the most venomous depths!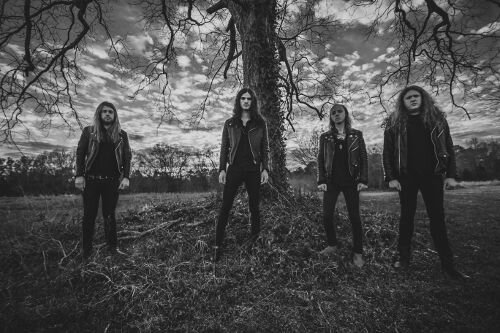 CLOAK were conceived in Atlanta, Georgia in the year 2013. The American band quotes DISSECTION, DEEP PURPLE, and FIELDS OF THE NEPHILIM as their main influences and their harsh but groovy sound invites comparison with such acts as TRIBULATION, WATAIN, and YOUNG AND IN THE WAY. CLOAK initially locked themselves away, carefully preparing their material, which emerged two years later in the shape of a first demo ('Demo 2015') that created waves in the US underground.
Following the release of the demo, a two song self-titled EP was unleashed earlier this year, and saw the band receiving critical acclaim across several international metal media outlets such as Metal Hammer, Decibel Magazine, No Clean Singing, and many more. In their short time as a band, CLOAK have already shared the stage with renowned acts such as WOLVES IN THE THRONE ROOM, WINDHAND, INTER ARMA, SATAN, and TAAKE.
"Cloak lead the listener down a winding walkway towards a shadowy intersection of black metal and cavernous death rock." Decibel Magazine
Line-up
Scott Taysom – voice, guitar
Max Brigham – guitar
Matt Scott – bass
Sean Bruneau – drums
Join CLOAK on their official Facebook page!
View Cloak