CLOAK – The Burning Dawn – September 24, 2019
Posted on September 24, 2019
More information about The Burning Dawn
Atlanta black 'n' rollers CLOAK will be supporting black metal masters 1349 on the band's upcoming North American tour, alongside UADA.
The trek will kick off on October 25, which is also the same day that CLOAK's sophomore album, 'The Burning Dawn,' will be released! The full itinerary can be found below.
CLOAK comment on the upcoming dates, "To coincide with the release of our new album 'The Burning Dawn,' we will join 1349 and UADA on a blazing trail across the U.S. and Canada. A new dawn beckons and the black flame burns high! See you on the road."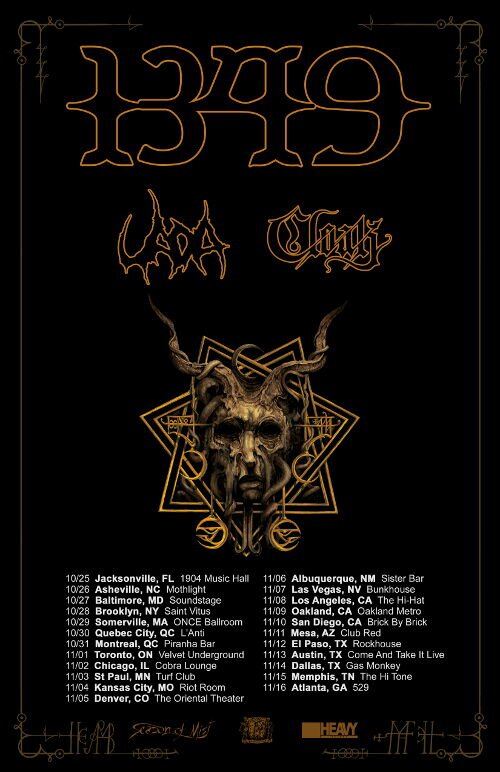 1349 + CLOAK (w/ UADA) North American Tour Dates:
10/25: Jacksonville, FL @ 1904 Music Hall
10/26: Asheville, NC @ Mothlight
10/27: Baltimore, MD @ Soundstage
10/28: Brooklyn, NY @ Saint Vitus
10/29: Somerville, MA @ ONCE Ballroom
10/30: Quebec City, QC @ L'Anti
10/31: Montreal, QC @ Piranha Bar
11/01: Toronto, ON @ Velvet Underground
11/02: Chicago, IL @ Cobra Lounge
11/03: St Paul, MN @ Turf Club
11/04: Kansas City, MO @ Riot Room
11/05: Denver, CO @ The Oriental Theater
11/06: Albuquerque, NM @ Sister Bar
11/07: Las Vegas, NV @ Bunkhouse
11/08: Los Angeles, CA @ The Hi-Hat
11/09: Oakland, CA @ Oakland Metro Operahouse
11/10: San Diego, CA @ Brick By Brick
11/11: Mesa, AZ @ Club Red
11/12: El Paso, TX @ Rockhouse
11/13: Austin, TX @ Come And Take It Live
11/14: Dallas, TX @ Gas Monkey
11/15: Memphis, TN @ The Hi Tone
11/16: Atlanta, GA @ 529
CLOAK will be playing in support of their upcoming album 'The Burning Dawn'. The album is available for pre-ordering here.
Join CLOAK on their official Facebook page.
View Cloak