News update : CORRUPT MORAL ALTAR – April 29, 2014
Posted on April 29, 2014
CORRUPT MORAL ALTAR have announced a UK tour this summer. The grinding and sludgy hardcore powerhouse will hit the road in Liverpool at Maguires on July 24th and continue to rampage through England and Scotland until a final appearance for this leg at the Adelphi in Preston on July 27th. You can find a full list of all five shows below: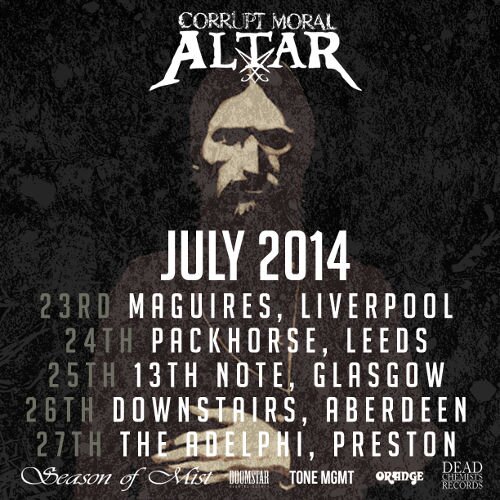 23 Jul 14 Liverpool (UK) Maguires
24 Jul 14 Leeds (UK) Packhorse
25 Jul 14 Glasgow (UK) 13th Note
26 Jul 14 Aberdeen (UK) Downstairs
27 Jul 14 Preston (UK) The Adelphi
The band comments: "We are pretty chuffed to have confirmed a short jaunt up to Scotland this July. En route we'll be popping in to Maguires, Liverpool & The Packhorse in Leeds as well as finishing at The Adelphi in Preston too so come out, get you earholes smashed in and as always, bring Buckfast. We are in the process of planning two bigger runs this September and October throughout mainland Europe including The Netherlands, Germany, Austria, Czech Republic, Switzerland, Italy, Denmark, Luxembourg, Belgium and France – watch this space for developments."
CORRUPT MORAL ALTAR recently signed to Season of Mist and have already completed their brand new full length album, to be released late 2014.
View Corrupt Moral Altar