CORRUPT MORAL ALTAR – Mechanical Tides – October 16, 2014
Posted on October 16, 2014
More information about Mechanical Tides
CORRUPT MORAL ALTAR are kicking off their European tour tomorrow. The grinding sludge maniacs will be joined by Chicago's SICK/TIRED and start the riots at Bloodshedfest, Eindhoven (NL) on October 18th. The angry Englishmen and their American supporters will continue to devastate five more European countries until their final show together at Go! Fest in Roma (IT) on the 25th of October. All upcoming dates are listed below.
CORRUPT MORAL ALTAR will continue on their own for two additional shows in Zürich (CH) and Kortrijk (BE) on October 26th and 27th, before returning to lay waste to the still United Kingdom, which includes a performance at the prestigious Damnation Festival and a string of three shows opening for ENTOMBED A.D. from November 11th to 14th.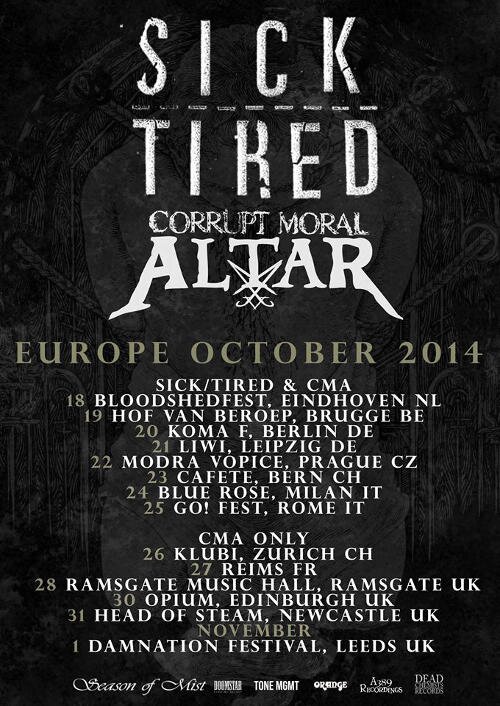 18 Oct 14 Eindhoven (NL) Dynamo (Bloodshed Festival)
19 Oct 14 Brugge (BE) Hof van Beroep (+Sick/Tired )
20 Oct 14 Berlin (DE) Koma F (+Sick/Tired)
21 Oct 14 Leipzig (DE) Liwi (+Sick/Tired)
22 Oct 14 Praha (CZ) Modra Vopice (+Sick/Tired )
23 Oct 14 Bern (CH) Cafete (+Sick/Tired)
24 Oct 14 Milano (IT) Blue Rose (+Sick/Tired)
25 Oct 14 Roma (IT) Go! Fest (+Sick/Tired)
26 Oct 14 Zürich (CH) Klubi
27 Oct 14 Kortrijk (BE) The Pit's
28 Oct 14 Ramsgate (UK) Ramsgate Music Hall
30 Oct 14 Edinburgh (UK) Opium
31 Oct 14 Newcastle (UK) Head Of Steam
01 Nov 14 Leeds (UK) Leeds University Union (Damnation Festival)
11 Nov 14 Manchester (UK) The Roadhouse (+Entombed A.D.)
12 Nov 14 Glasgow (UK) Audio (+Entombed A.D.)
14 Nov 14 London (UK) Underworld (+Entombed A.D.)
Father Tongue
Blood Harmony
Die Glocke
Line Check
Wire Mother
Gin Dreams
Closed Casket
Sweet Talk
Admit Defeat
Garland Greene
River Blind
Black Chapter
Insect Politicians
CORRUPT MORAL ALTAR are touring in support of their debut album 'Mechanical Tides', which is available for full streaming here and can still be ordered from the Season of Mist shop.
View Corrupt Moral Altar