CRIPPLED BLACK PHOENIX – Bronze – September 20, 2017
Posted on September 20, 2017
More information about Bronze
CRIPPLED BLACK PHOENIX are announcing a European tour in autumn, which will be joined by hard rocking label mates EARTH ELECTRIC and Swedish multi-instrumentalist JONATHAN HULTÉN. A full list of confirmed dates can be found below.
The eclectic British rockers will kick off their road rage at the P60 in the Dutch city Amstelveen, The Netherlands on November 12th and continue to deliver sweat dripping shows in five more countries through that month until a final curtain at the O13 in the Netherlands again in Tilburg on the 25th.
Mastermind Justin Greaves comments: "The grey of November is bound to see that damn black dog running free. What could be better than to unleash our CRIPPLED BLACK PHOENIX to fight this miserable creature with a heavy dose of rock. Coming to a place near you or at least as close as it gets, we will not only present our latest album, 'Bronze' in a final round, but also play some of those classics you keep asking for. Here we go, don't miss us kicking that black dog – metaphorically as no animal cruelty will ever be supported by us."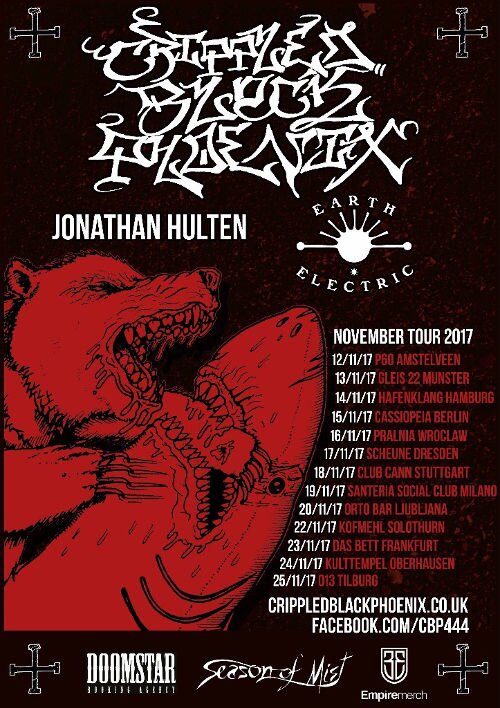 CRIPPLED BLACK PHOENIX + EARTH ELECTRIC + JONATHAN HULTÉN
12 Nov 17 Amstelveen (NL) P60
13 Nov 17 Münster (DE) Gleis 22
14 Nov 17 Hamburg (DE) Hafenklang
15 Nov 17 Berlin (DE) Cassiopeia
16 Nov 17 Wroclaw (PL) Pralnia
17 Nov 17 Dresden (DE) Scheune
18 Nov 17 Stuttgart (DE) Universum
19 Nov 17 Milano (IT) Santeria Social Club
20 Nov 17 Ljubljana (Sl) Orto Bar
22 Nov 17 Solothurn (CH) Kulturfabrik Kofmehl
23 Nov 17 Frankfurt (DE) Das Bett
24 Nov 17 Oberhausen (DE) Kulttempel
25 Nov 17 Tilburg (NL) 013
CRIPPLED BLACK PHOENIX will be touring in support of their latest album 'Bronze'. Artwork and track list can be found below.
Dead Imperial Bastard
Deviant Burials
No Fun
Rotten Memories
Champions Of Disturbance (Pt 1 & 2)
Goodbye Then
Turn To Stone
Scared And Alone
Winning A Losing Battle
We Are The Darkeners
'Bronze' can still be ordered in various formats from the Season of Mist shop
Join CRIPPLED BLACK PHOENIX on their official Facebook page!
View Crippled Black Phoenix