CRIPPLED BLACK PHOENIX – Great Escape – March 21, 2019
Posted on March 21, 2019
More information about Great Escape
CRIPPLED BLACK PHOENIX have kicked off their earlier announced European tour. The tour has commenced in the UK and will end at the Roadburn Festival in the Netherlands, a few weeks later. The band will be supported by SOFT KILL and FOTOCRIME. Find the full list of tour dates below.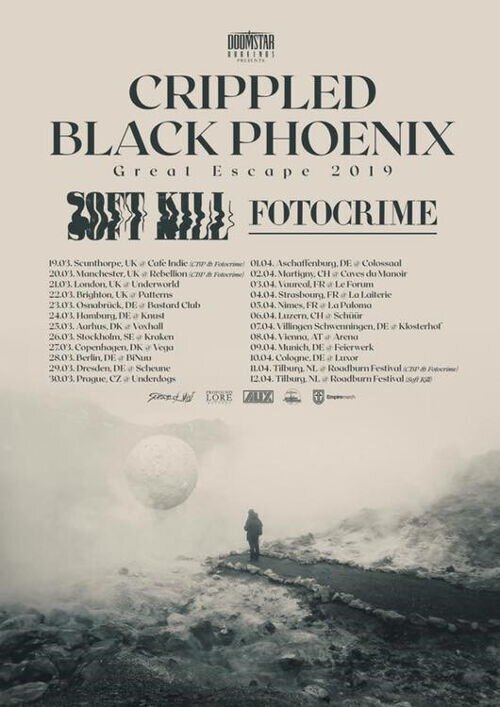 CRIPPLED BLACK PHOENIX + SOFT KILL and FOTOCRIME
21 Mar 19 London (UK) The Underworld
22 Mar 19 Brighton (UK) Pattern
23 Mar 19 Osnabrück (DE) Bastard Club
24 Mar 19 Hamburg (DE) Knust
25 Mar 19 Aarhus (DK) Voxhall
26 Mar 19 Stockholm (SE) Kraken
27 Mar 19 Copenhagen (DK) Vega
28 Mar 19 Berlin (DE) BiNuu
29 Mar 19 Dresden (DE) Scheune
30 Mar 19 Prague (CZ) Underdogs
01 Apr 19 Afschaffenburg (DE) Colossaal
02 Apr 19 Martigny (CH) Caves du Manoir
03 Apr 19 Vaureal (FR) Le Forum
04 Apr 19 Strasbourg (FR) La Laiterie
05 Apr 19 Nimes (FR) La Paloma
06 Apr 19 Luzern (CH) Schüür
07 Apr 19 Villingen Schwenningen (DE) Klosterhof
08 Apr 19 Vienna (AT) Arena
09 Apr 19 Munich (DE) Feierwerk
10 Apr 19 Cologne (DE) Luxor
11 Apr 19 Tilburg (NL) Roadburn Festival 2019
CRIPPLED BLACK PHOENIX are touring in support of their full length 'Great Escape' which was released on September 14, 2018. The record is still available in the Season of Mist shop.
Join CRIPPLED BLACK PHOENIX on their official Facebook page.
View Crippled Black Phoenix