CYNIC – Kindly Bent To Free Us – December 11, 2013
Posted on December 11, 2013
More information about Kindly Bent To Free Us
Legendary progressive rock innovators CYNIC's forthcoming album is entitled 'Kindly Bent to Free Us' and has been scheduled for next February 14th (February 18th in North America). The highly-anticipated follow-up to 2008's 'Traced in Air' will be available on several formats. See detailed list below!
True Hallucination Speak
The Lion's Roar
Kindly Bent to Free Us
Infinite Shapes
Moon Heart Sun Head
Gitanjali
Holy Fallout
Endlessly Bountiful
The deluxe edition of 'Kindly Bent to Free Us' will come as a collector's faux book with leather finish and gold foil print including the album in Digisleeve CD with the exclusive bonus track "Earth Is My Witness", and numerous exclusive items including a poster, lyrics booklet, full score booklet, and 5 transparent slides of additional artwork.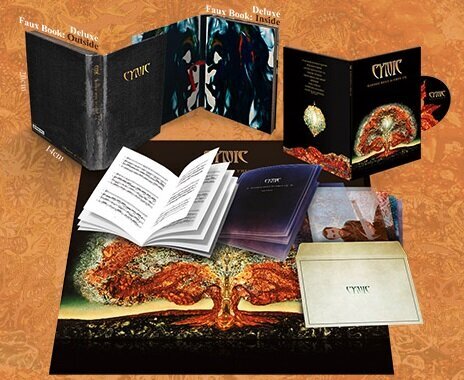 'Kindly Bent to Free Us' will also be available on Digipak CD, transparent clear gatefold double LP limited to 400 copies, transparent orange gatefold double LP limited to 200 copies, semi-transparent bronze gatefold double LP limited to 150 copies, and regular gatefold double LP on black vinyl. All formats are available for pre-order on Season of Mist's e-shop!.
A lyrics video for "The Lion's Roar" is currently being premiered on PROG and Guitar World.
The album was produced by CYNIC (guitarist/vocalist Paul Masvidal, drummer Sean Reinert, bassist Sean Malone) at Perfect Sound Studios in Los Angeles, engineered by Jason Donaghy (BAND OF HORSES, FEIST, ROB ZOMBIE, RYAN ADAMS), mixed by R. Walt Vincent (PETE YORN, LIZ PHAIR, TOMMY KEENE) and mastered by Maor Appelbaum (FATES WARNING, SEPULTURA, CATHEDRAL, INQUISITION, HALFORD). The artwork is by long-time CYNIC artist and sadly late Robert Venosa.
View Cynic