DEFILED – Infinite Regress – November 27, 2019
Posted on November 27, 2019
More information about Infinite Regress
Death metal maniacs DEFILED are now announcing new European tour dates in support of VADER. The death metal rampage will kick off at the Bastard venue in Osnabrück (DE) on March 07 and continues throughout 8 more counries before a final curtain at the Colloseum in Košice (SK) on March 22. A full list of confirmed shows can be viewed below.
DEFILED comment on the tour: "We're thrilled to announce our next European tour with the mighty Vader! We actually opened for Vader back in 1998, on their first show ever in Tokyo; so not only is it a great honor for us to be a part of their anniversary tour and have the chance to share the stage with them again, but it also brings back so many souvenirs and good memories… Saying that we're excited would be a strong contender for the understatement of the year!! Now about the tour itself, you guys should expect a lot of new songs from our upcoming album 'Infinite Regress'. Looking forward seeing you all on the road. Thanks!"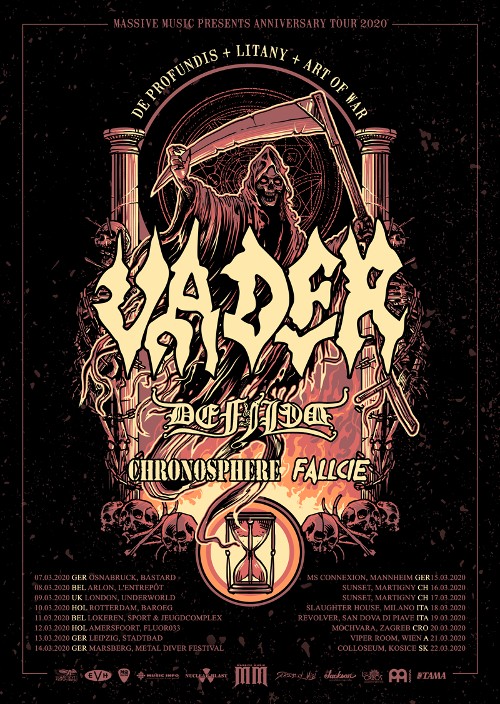 DEFILED Japan
07 Feb 20 Osaka (JP) Hokage
08 Feb 20 Nagoya (JP) Daytrive
09 Feb 20 Yokohama (JP) El Puente
10 Feb 20 Tokyo (JP) Earth DOM
11 Feb 20 Sendai (JP) K's studio
21 Feb 20 Hiroshima (JP) Spider
22 Feb 20 Sapporo (JP) Crazy Monkey
23 Feb 20 Okinawa (JP) Remy's
24 Feb 20 Fukuoka (JP) Graf
DEFILED + VADER + CHRONOSPHERE + FALLCIE
07 Mar 20 Osnabruck (DE) Bastard
08 Mar 20 Arlon (BE) l'Entrepot
09 Mar 20 London (UK) Underworld
10 Mar 20 Rotterdam (NL) Baroeg
11 Mar 20 Lokeren (BE) Sport & Jeugdcomplex
12 Mar 20 Amersfoort (NL) Fluor
13 Mar 20 Leipzig (DE) Stadtbad
14 Mar 20 Marsberg (DE) Metal Diver Festival
15 Mar 20 Mannheim (DE) MS Connexion Complex
16 Mar 20 Martigny (CH) Sunset
17 Mar 20 Martigny (CH) Sunset
18 Mar 20 Milano (IT) Slaughter House
19 Mar 20 San Dova di Piave (IT) Revolver
20 Mar 20 Zagrzeb (HR) Mochvara
21 Mar 20 Wien (AT) Viper Room
22 Mar 20 Kosice (SK) Colloseum
DEFILED will be touring in support of their upcoming album 'Infinite Regress', which is available for pre-ordering in the Season of Mist shop.
Join DEFILED on their official Facebook page.
View Defiled