DÉPARTE – Failure, Subside – September 12, 2016
Posted on September 12, 2016
More information about Failure, Subside
DÉPARTE have premiered the new song "Ashes in Bloom" taken from their forthcoming debut full-length 'Failure, Subside', which has been scheduled for the 14th of October. "Ashes in Bloom" is streaming via Stereogum.
DÉPARTE comment regarding "Ashes in Bloom": "This song deals with complete loss of direction. Externally modern man may be progressing at an incredible rate, but if we look deeper, ever so often we find ourselves to be nothing more than lost, frightened children, longing more than anything for a deeper meaning. 'Ashes in Bloom' calls for awakening, to climb from beneath the choking, blinding silt that engulfs us, to breathe in freely for the first time and truly reconnect with our purpose."
Seas of Glass
Ashes in Bloom
Wither
Grief Echoes (Golden Scars)
Mara's Choir
Vessel
Ruin
Darkness descends, physically oppressive, a heavy weight on the chest. Black tendrils probing, intruding, coldness seeps into skull and bones. Pain and a crushing despair grip the soul. Yet this bleak onslaught is as precise as methodical. A grim determination drives this spike deep into the heart. With their debut album 'Failure, Subside', DÉPARTE set a new benchmark for musical viciousness.
DÉPARTE were formed in Hobart, Tasmania as a black metal quartet at first under the name ØRANNIS in 2011. The Australians intended to create dark, brooding atmospheric black metal with a focus on an intense, hypnotic live performance. Yet with the addition of a second guitarist, their sound developed further.
DÉPARTE started to drift from the more traditional black metal ethos, shed their face paint and incorporated elements from various other genres, such as post metal, drone, doom and death metal. The combination of these ingredients resulted in something unique, emotive and truly powerful.
DÉPARTE released their first official demo 'MMXIV', which contained two tracks in November 2014. It speaks volumes that the band was already invited to share stages with local heroes such as NE OBLIVISCARIS, PORTAL, and THE AMENTA as well as international heavy-weights from the calibre of GORGUTS, ULCERATE, WORMED, ABSU, and many more.
DÉPARTE then proceeded to record their debut full-length 'Failure, Subside', an album which is now ready to sink its claws into any unwary listener. Beware of this black beast!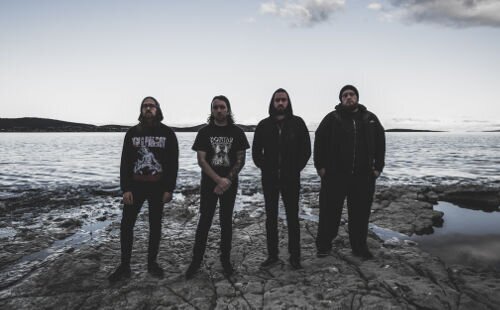 Line-up
Sam Dishington: guitar, vocals
Michael Rankine: drums
Mitchell Golding: guitar
Jarrod Sorbian: bass
'Failure, Subside' can already be pre-ordered from the Season of Mist shop.
Join DÉPARTE on their official Facebook page.
View Départe