DÉPARTE – Failure, Subside – April 17, 2018
Posted on April 17, 2018
More information about Failure, Subside
DÉPARTE have kicked off their European tour with HEXIS in support of their latest release 'Failure, Subside'. Don't miss this rare chance to catch the up and coming band from Down Under! A full list of remaining shows can be found below.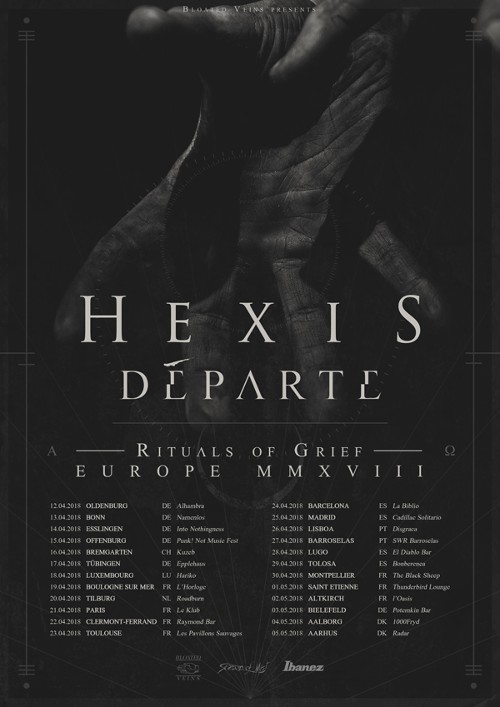 DÉPARTE comment: "After months of preparation, we are finally ready to perform our 'Rituals of Grief' across Europe alongside Danish blackened hardcore outfit HEXIS. We are profoundly excited to make our return and to bring the material from our debut album 'Failure, Subside' to cities both new and familiar."
DÉPARTE Europe + HEXIS
17 Apr 18 Tübingen (DE) Epplehaus
18 Apr 18 Luxembourg (LU) Hariko
19 Apr 18 Boulogne-sur-Mer (FR) L'Horloge
20 Apr 18 Tilburg (NL) Roadburn Festival
21 Apr 18 Paris (FR) Le Klub
22 Apr 18 Clermont-Ferrand (FR) Raymond Bar
23 Apr 18 Toulouse (FR) Les Pavillons Sauvages
24 Apr 18 Barcelona (ES) La Biblio
25 Apr 18 Madrid (ES) Cadillac Solitario
26 Apr 18 Lisboa (PT) Disgraca
27 Apr 18 Barroselas (PT) SWR Metalfest
28 Apr 18 Lugo (ES) El Diablo Bar
29 Apr 18 Tolosa (ES) Bonberenea
30 Apr 18 Montpellier (FR) The Black Sheep
01 May 18 Saint Etienne (FR) Thunderbird Lounge
02 May 18 Altkirch (FR) l'Oasis
03 May 18 Bielefeld (DE) Potemkin Bar
04 May 18 Aalborg (DK) 1000 Fryd
05 May 18 Aarhus (DK) Radar
DÉPARTE will be touring in support of their debut full-length 'Failure, Subside'. Artwork and track-list can be viewed below.
Seas of Glass
Ashes in Bloom
Wither
Grief Echoes (Golden Scars)
Mara's Choir
Vessel
Ruin
'Failure, Subside' can still be ordered in various formats from the Season of Mist shop
Join DÉPARTE on their official Facebook page!
View Départe